Tax season is the busiest time for collection agencies. With 3 in 4 U.S. residents receiving a tax refund from the government during this season each year, many of those who need to settle a debt wisely take advantage of these reimbursements to pay off their outstanding balances. In 2022, the average tax refund for individuals in the U.S. was $3,039.
Collection agencies can take advantage of this window of opportunity to maximize recovery rates and agency profits. During tax season, the industry usually experiences a peak in payments, paired with a general openness of consumers to engage with collectors. This year, due to the high inflation rates, many consumers will be relying on tax refunds to pay off their debt.
Call automation with Voice AI — the technology behind voicebots — can transform tax season for the better, making it a less stressful and more profitable time for collection agencies. In this article, we'll go over how agencies can prepare for the volume surge in calls during tax season by adopting Conversational Voice AI.
The Challenges Collection Agencies Face Before and During Tax Season
While tax season undoubtedly represents a window of opportunity, it also presents several challenges for collection agencies. The best way for management to tackle these challenges is to prepare in advance and to involve their collectors on the floor in these preparations.
Here are some of the most common challenges collection agencies face before and during tax season:
Hiring new collectors: To handle the surge in call volume, collection executives often need to hire new collectors to join their staff. How many collectors should you hire? Hiring takes time and resources, as managers don't want to hire the wrong person; since the COVID-19 pandemic, it's become more challenging to find new talent, as people are inclined to seek more flexible jobs, and salaries have become more competitive. You'll need ample time to find new talent and train new hires.
Training staff to prepare for the season: Whether newly hired or seasoned, all collectors should receive the appropriate training before the beginning of tax season. All training materials should be easily accessible, focusing on the challenges and skills specific to this time of the year.
Updating the agency's compliance management system: Every agency should have a compliance management system — often found within the collections management software. This system is used to store and organize the current laws and regulations of the ARM industry. Before tax season begins, the agency's compliance officer or manager should ensure that the system is up to date with the latest regulations; outdated regulations should be removed. Additionally, this system should be easy to access and browse for collectors.
Planning a successful settlement campaign: The surge in collection volume encourages some agencies to offer small discounts for a limited time; other agencies take it to the next level by planning a wide-scale settlement campaign. For a settlement campaign, the agency focuses on a specific group of accounts, typically consumers with higher recovery rates and debt whose age falls within a specific timeframe. If the agency services third-party debt, then it also needs to coordinate the campaign with the original creditors. Executives must decide what balance reduction they are going to offer those consumers and the running time of the campaign. The entire process can make the agency extremely busy, and things are likely to get hectic for the collectors on the floor.
How Voice AI Can Make Your Life Easier During Tax Season
Voice AI, the technology behind voicebots, is taking the ARM industry by storm. Voice AI enables first and third-party collection agencies to automate unlimited collection calls and process on-call payments, making it much easier for executives to scale up their collection campaigns without the need to hire extra or seasonal representatives.
A Voice AI solution like Skit.ai's Digital Voice Agent contacts the consumer, establishes right-party contact, reminds them of the outstanding balance, and encourages them to make an on-call payment. The agent can also offer the consumer alternative payment options and intelligently handle a dispute. It's important to note that Voice AI is not IVR (interactive voice response), an outdated and unpopular solution commonly used in customer service.
Call automation with Voice AI is transforming collections across the board, as it enables collection agencies to handle many more accounts simultaneously, recovering debt at a fraction of the cost. Additionally, this technology augments the work of live collectors, who are empowered to handle more complex cases and focus on more revenue-generating tasks.
While this technology is helpful all year round, during tax season it becomes particularly essential. Here's why: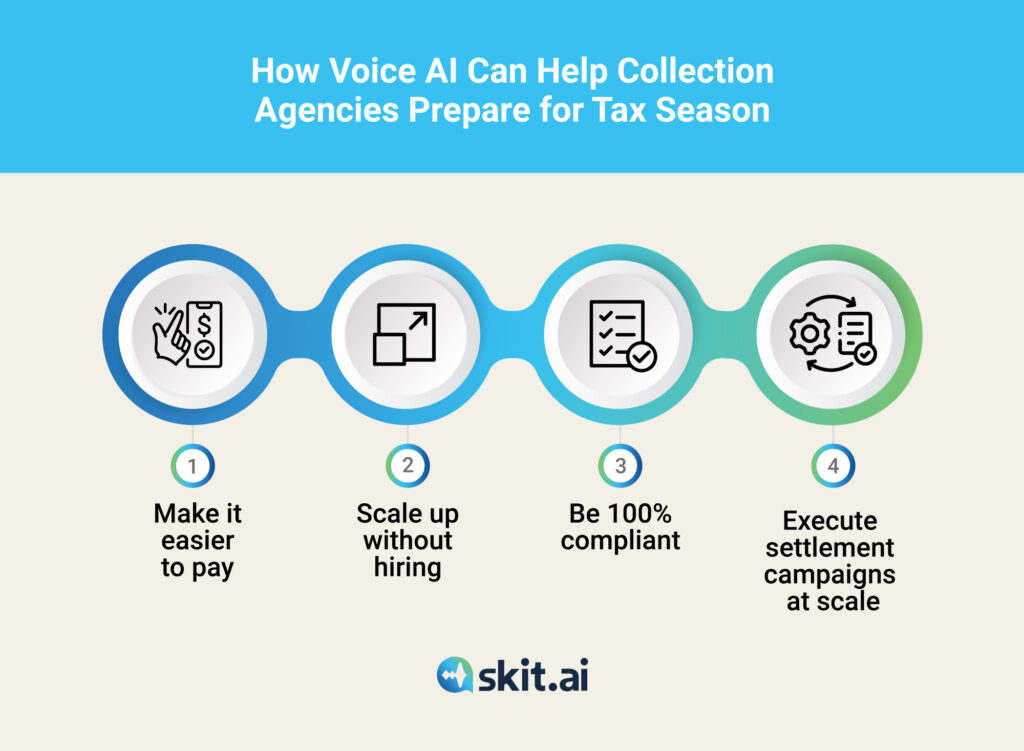 Make it super easy for consumers to pay. Any roadblock in the payment process can significantly hinder the recovery of the debt. That's why customer experience plays an important role, and making the payment as easy and frictionless as possible is a priority for your agency. Voice AI makes the process smooth and pleasant for consumers.
No need to hire additional collectors during tax season: Voice AI enables executives and managers to scale their operations, without the need to hire additional collectors during this busy season. This way, they can continue to rely on their trusted team and get the extra help they need from the Digital Voice Agents, who are unlimited in number and can handle thousands of calls simultaneously. Collections with Voice AI are significantly cheaper; additionally, voicebots don't take any commission!
Fewer concerns about compliance thanks to Voice AI: Executives can worry less about complying with laws and regulations since the Digital Voice Agent is fully trained to comply with regulations at the state and federal levels. Unlike live collectors, the automated agent is always compliant and does not go off script.
Execute a smooth settlement campaign at scale: With Voice AI, collection agencies can execute a settlement campaign at scale, reaching thousands of consumers in a very short amount of time to offer the settlement and collect the payments.
---
Are you ready to take the next step toward call automation with Voice AI? Schedule a free demo with one of our experts using the chat tool below!