What's common among interactive voice response (IVR) systems, ATMs, knowledge base, mobile applications, virtual assistants or chatbots? They are all self-service options that can help dispense answers and resolve queries at lightning speed! Self-service or self-help tools and options make for an empowered customer support team and a loyal customer base.
Self-service equals simplified customer journeys!
In a mobile-driven digital economy, a brand's relevance and value is measured in terms of the speed, convenience and the level of autonomy offered to their customers. Digital self-service is the central objective of today's automated customer support, but tailored for better CX and performance. Since the COVID-19 pandemic, the usage of digitized self-service by customers across demographics accelerated with sudden digital transformation (DX). With newer entrants into the market— more digital native brands, always-on, smartphone users and Gen Z customers, numerous possibilities await businesses using digital self-service in their customer support. As per the recent OnePoll study involving over 10,000 respondents from 11 countries to explore humanity's shifting relationship with digital tech and experiences:
Nearly 58% percent of participants said they will continue their digital brand interactions more than their pre-pandemic levels.
Most study respondents felt that the digital experience was fast and convenient, making it better or on par with the real-world, face-to-face customer service interactions.
Almost 66% reportedly had a 'good' or 'excellent' experience using online customer service options.
Diving a little deeper, the research summed up the exact reasons for positive reactions:
Instant issue/query resolution (48%).
Convenience (46%).
Speed (45%).
These findings form the crux of self-service. In this blog we will begin our exploration on why self-service tools are truly adept in capturing customers' interest, and meeting productivity and performance goals of brands' customer support.
Psychology behind Self-service
Self-service is not the same as automation. Sure, digital self-service gives automated responses to repetitive queries in blazing speed. It is not only about allowing customers to resolve things on their own but also empowering them to address them faster. The overall value of the self-service strategy is measured in terms of its impact on CX. The faster, more convenient and more cutting-edge the self-service options, the better would be the CX scores. Moreover, the intuitiveness and simplicity of self-service helps reduce customer effort while solving problems on their own. This lowers the customer effort score (CES), another key metric for frictionless CX!
An intuitive, anytime self-service strategy across the platforms or channels also helps evade a laundry list of options for customer service-related interactions and unnecessary contact with human agents. This is integral for curbing additional contact center operations costs and allocating resources and human efforts in areas that build proactive and customer-centric impressions. No wonder, in the U.S. 88% of customers prefer self-service for dealing with their everyday problems. The number is equal to the global average of customers that expect brands and businesses to include a self-service support portal.
The Most Common Types of Self-service Options
Now, let's have a look at this run-down of the widely adopted self-service support options.
Knowledge Base and FAQs: Internet-savvy customers leverage business/brands' digital presence to find their way from the search engine platform to access information in a variety of forms (videos, landing pages, texts, infographics, illustrations, audiobooks, guides, and icons) for problem-solving. Dedicated FAQ pages that are brief and true-to-context is another form of self-service option that guides customers through specific customer service-related scenarios on the company's website.
Integrated Contact Centers: Customer data is created across multiple channels. Integrated contact centers bind sales, contact center agents or other representatives with unified data sharing, collaboration and improved access to customer data across customer journeys and omni-channels for customer service. The intention is to boost CX and reduce the need to repeat information as customers navigate different customer service departments to solve issues on their own.
Interactive Voice Response (IVR) Systems: IVRs have existed for more than five decades. They are customer-facing phone systems that offer (inbound and outbound) support with pre-recorded messages and self-service menu responses to customers' text inputs. They are cost-effective, scalable, and automated alternatives to human agents.
Move Beyond IVRs: Transform CX with Digital Voice Agents
Chatbots: Chatbots use text-based or voice interfaces that are integrated to websites or mobile apps' chat/message window to interact with customers. They are AI-driven and created based on the planned interaction flow chart to respond to customers in a matter of seconds.
Mobile Applications: Mobile apps with intuitive and interactive UX and UI give information to customers via dashboards, push notifications and updates in their moments of need, on their mobile devices.
Voice AI: A Quantum Leap in Self-service
The common forms of self-service options are the building blocks of the new age customer support. But there's always the expectation for solutions that drive up the cost savings and operational efficiency while also helping brands' contact centers meet their CX objectives. Imagine, if brands were able to achieve that while also offering self-service support that was voice-led, personalized, empathetic and proactively responds in real-time! For today's automation and customer-first era, Skit.ai's purpose-built Voice AI platform redefines self-service for optimizing customer support not only for better CX but for enhanced employee and business experience.
Built to enable conversations that are modeled on human interactions for prompt query resolution and personalized caller experiences, Voice AI is a next level of innovation in self-service. It delivers the best of voice experiences for brands through their contact centers that go beyond the capabilities of generic voice bots.
Voice AI is built to be domain-specific unlike generic voice-first platforms by Amazon and Google. The spoken language understanding (SLU) layer of Voice AI helps capture short, conversational utterances and is capable of deciphering semantic details that helps identify the right intent.
Why Every Company Must Have a Voice: Read Now
How Voice AI Lays the Framework for Self-service
Voice conversations are the most natural forms of human communication and still remain one of the most sought after brand-customer interactions. Live voice conversations are critical to delivering high-quality customer experience. Customers interacting with self service options such as IVRS and messaging chatbots think before inputting a text command and hit send. Voice AI is a technology built to understand the intricacies of spoken language and not limited to text. It can quickly grasp customers' voice interactions and filter through pauses and repetitions.
The Digital Voice Agents plug into the contact centers for automating cognitively routine work and independently resolving tier 1 customer problems. This would aid the human workforce to focus on more complex customer queries and contact centers to adopt intelligent human-machine collaboration. This way customers can stay in control and brands also get to pick the best self-service strategy for delightful CX.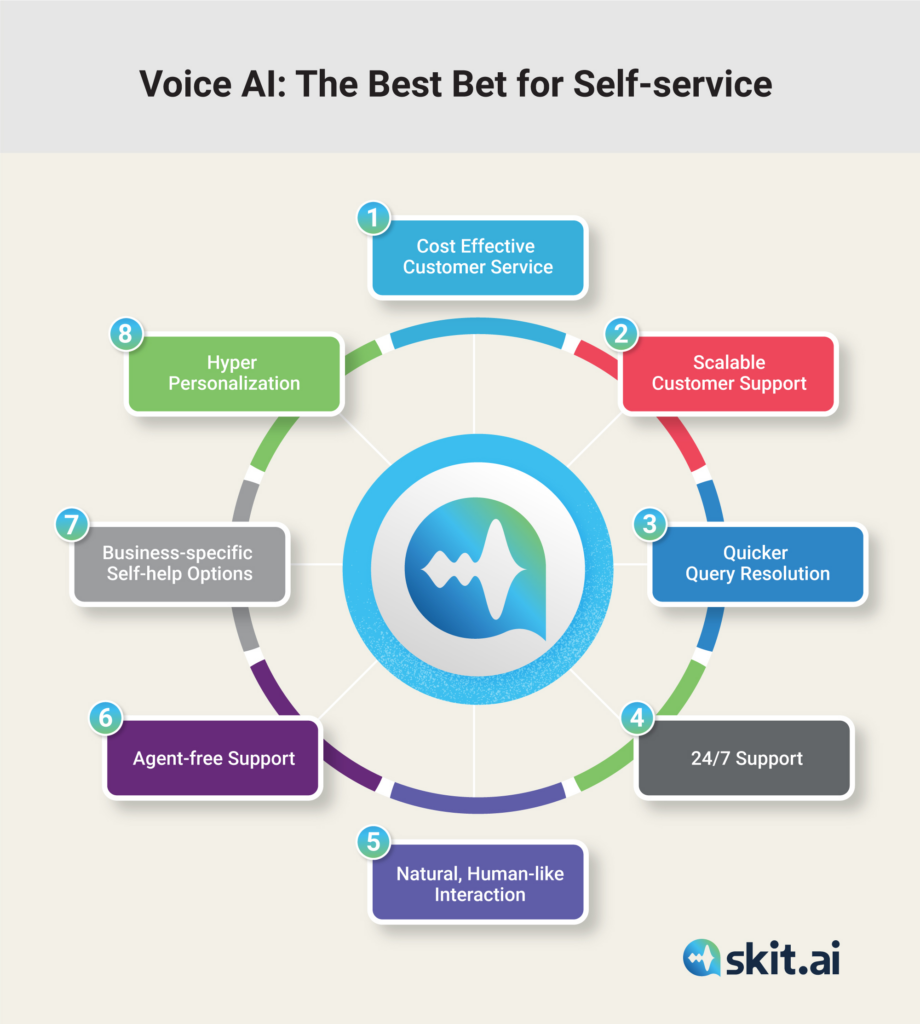 Now, let's dig into various features of Voice AI that makes it a better alternative to conventional self-service support:
Natural human-like Interaction: Digital voice agents that can mimic human-like conversations and comprehend interactions at a semantic level. It doesn't feel like interacting with IVRs. It feels like holding conversations with the brands' contact center agent.
Problem Recognition: Customers navigating through the self-service option can feel like they are lost in translation because of the complex IVR loops, limited menus or options that do not cater to their requirements. Sometimes chatbots are built with an ASR layer on top of NLP. They are great for transcriptions, not conversations. They deliver the same experience as going through a rigid IVR system. Digital Voice Agents can understand the right sentiment and nuances of human conversations, allowing the customer support to accurately identify and solve customers' problems.
Always-on, Human Agent-free experience: One of the core value propositions of implementing a digital voice agent is its ability to function 24/7 for the 'always-on' customers without the dependency on human agents. This translates to cost savings by automating high-volume, zero-value and repetitive customer queries.
Quick Resolution: Self-service platforms optimized by powerful AI-capabilities and strong data sets based on customers data can be used for competitive advantage. It allows fast resolution, impacting customer satisfaction and CX.
Diversify Customer Service at a Lesser Cost: When more problems that are unique in nature can be handled by voice agents and automated, it helps brands' customer service be a one-stop-shop for addressing customer queries at a fraction of a cost.
Smarter Human Resource Allocation: Self service options in contact centers make it easier to address trivial problems or anything that is repetitive in nature using Digital Voice Agents. Human agents can be allocated only for complex customer service issues, allowing for better resource planning and empowered customer support teams.
Make Self-service More human: Digital voice agents add a human touch to the overall experience without involving a human. The datasets are designed for SLU and built for domain-specific words which makes it easier to hold contextual conversation with the customers even via self-service options.
Hyper-personalize Customer Support: Brands can guarantee hyper personalization leveraging Voice AI's extensive language support. It helps break spoken language barriers for enhanced query resolution and overall caller experience.
If you still have questions, refer to the infographic below for a brief comparative analysis between Voice AI and three most popular self-service tools.
| Features | Voice AI | IVR Systems | Chatbots | Mobile Apps |
| --- | --- | --- | --- | --- |
| Primarily Built for Voice Input | Yes | No | No | No |
| Analytics and insights Capabilities | Very High | Low | High | Low |
| Elasticity of Customer Service | High | Low | Moderate | Low |
| Hyper-personalized and Contextual dialog Capability | High | Low | High | High |
| Handling time | Lowest | Very High | Moderate | Low |
| Quick Query Resolution | Quickest | Slowest | Quick | Quick |
Our Titbits
Envisioning customer service in the age of self-service is all about setting the right priorities. With the hope of keeping up with the trends for relevancy, brands and businesses need not steer away from their cost, profits and resource management goals. That's the core objective of reimagining customer self-service using Voice AI. Brands across industries can supercharge their CX with befitting self-service strategies to be more result-oriented and insight-driven to add a competitive edge.
Our reflections for the future—customers never settle and self-service alone is not enough! Therefore, we believe Voice AI is the most robust and well-rounded technology to improve customer support capabilities that go beyond conventional contact centers, adding a desired level of autonomy and self-sufficiency in customer service.
Refer to our Voice AI page for more information on actively engaging with your customers and unlocking the power of self-service. Book a demo with one of our experts–www.skit.ai