Blog
Meeting Debt Collection Compliance With AI-Powered Digital Voice Agents
Harshad Bajpai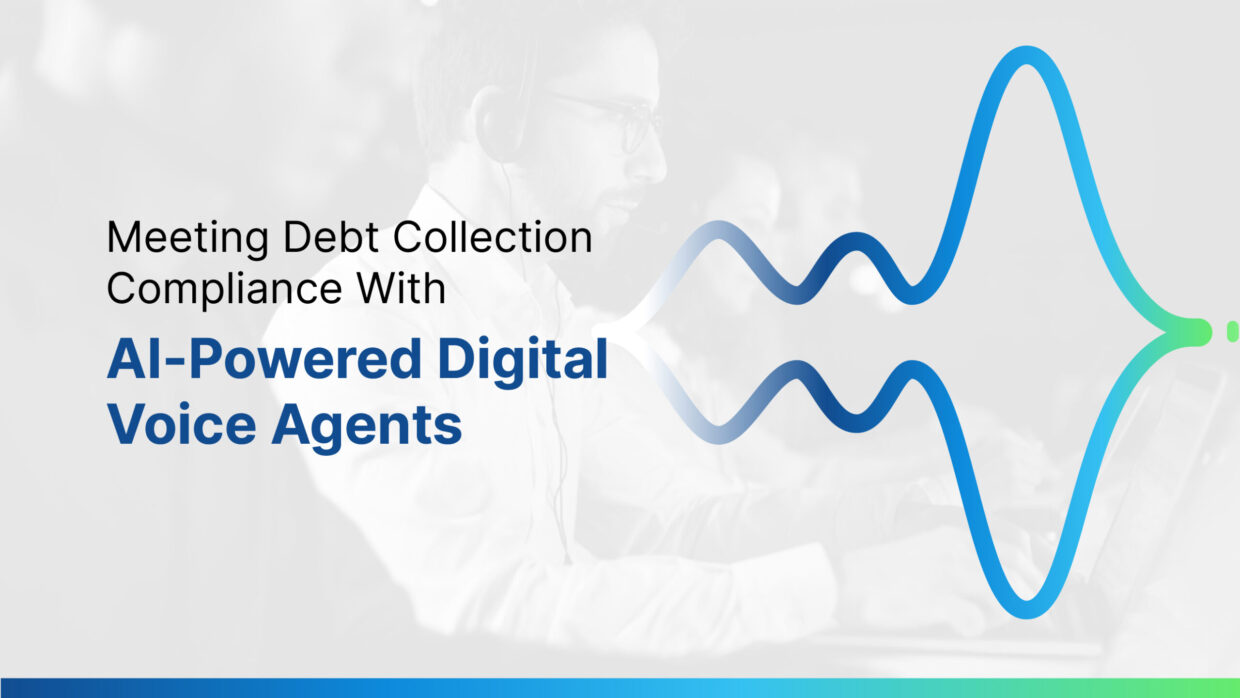 Owing to far-reaching repercussions, compliance management has become an issue of gravitas. It's a challenge of change. Often, frequent regulatory changes create ambiguity for collection agencies. For instance, Regulation F of the Consumer Financial Protection Bureau (CFPB) came into effect on November 30, 2021, and is the most significant debt collection rulemaking. Any creditor–either the original issuer or a debt buyer–faces challenges in responding to it. And even more tedious is training and retraining agents, reiterative setting up processes and tools to meet regulatory requirements.
When it comes to compliance, the devil is in the details. A human agent under varying stress and performance pressure is prone to make mistakes. But even an innocuous breach of compliance results in hefty fines and penalties. Even without state or local mandates around debt collection practices, federal regulations must be followed to avoid penalties or lawsuits from consumers or enforcers. CFPB levied $1.7 billion in civil penalties and over $14.4 billion in relief for American consumers in the last ten years. Compliance has thus evolved as a significant pain point for debt collections agencies.
---
---
We have reached a point where compliance is not just an expense item but also a source of differentiation for collection agencies. Unsurprisingly, most debt collection agencies are looking for tech solutions that can help them be more agile and efficient. Voice AI is one emerging solution with the most disruptive potential and growing use cases.
Too Many Calls, Too Little Communication
One of the prime objectives of compliance is to protect the customer from unfair practices and harassment. CFPB bases much of its enforcement authority on the concept of UDAAP (unfair, deceptive, and abusive acts or practices).
A call at the right time, to the right person, and with the right message can achieve the 3 Cs of debt collection: Cost, Compliance, and Customer Experience. A human agent may struggle to accomplish the triad, making too many or too few calls, but it's a cakewalk for an intelligent voice agent.
Explore how Voice AI solutions are Transforming Debt Collection
Current Compliance Challenges
The formal, statutory fees and levies, which are increasingly hefty, represent just the tip of the compliance cost iceberg (around 10%) of total regulatory costs. The broader cost of compliance is much bigger, making it a formidable force.
Here are the common challenges faced by debt collection agencies today:
Ever-Expanding List of Laws: Fair Debt Collection Practices Act (FDCPA), Telephone Consumer Protection Act (TCPA), Federal Fair Credit Reporting Act (FCRA), Payment Card Industry compliance (PCI), and Health Insurance Portability and Accountability Act (HIPAA) are a part of a growing list of regulations, adherence to which is a core driver to the success of debt collection agencies and similar financial institutions.
High Cost of Continual Training and Vigilance Process: A survey of sector firms by the Credit Services Association (CSA) reveals that in staffing terms, the proportion of resources involved (in compliance) seems to trend generally between 15% and 25% of total resources. That is a significant percentage and an opportunity to cut down the cost.
Client Expectation and Audit Requirements: Clients of collections agencies are deeply wary of meeting compliance and exert pressure, even more than regulators, to comply. As per a report by CFPB, collection agencies with large clients face 17 audits in a year. That's an average of 3 audits every 2 months. The lack of transparency between debt collectors and consumers makes it difficult for agencies to facilitate these audits effectively. It is a formidable challenge to meet such high expectations cost-effectively.
Insufficient Time to Design and Implement Compliance Effectively: A rapid and frequent change in regulation leads to collection agencies running from pillar to post to update their processes. Deploying AI-enabled voice agents can minimize the training and guidance cost.
High Cost of Not Meeting the Compliance Requirements: Failing to meet the compliance requirement has, in the past, led to grave heavy consequences. Encore and Portfolio Recovery Associates, two giants in bad debt collections, were fined $18 million in 2015. They were forced to refund or halt collection of over $160 million in consumer debts. Violating the Do Not Call registry can cost agencies anywhere between $500-$1500 per case, as per TCPA. Moreover, razor-thin margins make the total cost of attorney fees, settlement costs, and the opportunity cost of time too much for agencies to bear.
Voice AI and its Ability to Empower Collection Companies Manage Compliance
More often than not, compliance is a matter of adhering to protocols and procedures. AI-enabled digital voice agents that can religiously follow a given set of instructions prove far superior in adherence to the regulatory framework.
There are numerous instances where small mistakes land collection agencies in trouble. Here are some simple yet powerful examples of how Voice AI can help with compliances:
Honoring Do Not Call Registry and Data Scrubbing: The telephone Consumer Protection Act (TCPA) maintains a register of subscribers who do not want to be called for telemarketing calls and automated dialer calls unless you have consent to do so otherwise. It's essential to scrub the data before dialing these contacts and check for permission. Solution is to scrub the data against certain database such as Do-not-call registries (external and internal), consumers represented by attorneys and debt settlement companies, deceased consumers, serial litigators, bankrupt consumers, cease-and-desist order consumers. Unlike human agents, who can fumble, digital voice agents perform this with the help of APIs in a fraction of a second.
Calling Within Permissible Hours: FDCPA does not allow collection agencies to contact customers outside of 8:00 a.m. to 9:00 p.m. local time unless the consumer has given explicit consent. Additionally, customers with night jobs may not wish to be contacted during the day. Such personalization in large portfolios prove to be a daunting task for a human agent but an effortless one for a digital voice agent.
Calling Frequency: Regulation F of CFPB limits the frequency of calls under the 7/7/7 rule, restricting the agencies from attempting to establish communication with their consumers for more than 7 times in 7 days. The 7/7/7 rule includes voicemail, unanswered calls, and messages left on the consumer's phone, and excludes email and text messaging. Furthermore, agencies cannot try to establish contact in the next 7 days after a successful communication. It's taxing for human agents to consistently follow these rules for the entire customer base while optimizing time and cost at the same time. On the other hand, configuring machines to follow all these rules is possible with a click.
Mini-Miranda is mandatory as per FDCPA in the first communication in any channel. Digital voice agents never fail to comply with such regulatory requirements.
Failure to Discontinue Communication Upon Request: Communicating with consumers in any way (other than litigation) after receiving notice with certain exceptions can lead to lawsuits. Machines follow strict protocols and comply with the request submitted by the consumers.
Communicating with Consumers at Their Place of Employment: It's illegal to contact the consumer after being advised that this is unacceptable or prohibited by the employer. Human agents under dier conditions fail to honor guidelines. On the other hand, since machines reachout at the right time and frequency have high conversion rate while meeting compliance.
Contacting a consumer represented by an attorney: Agents must not contact the consumers who have chosen not to be contacted by agencies and have signed up attorneys for communication with certain exceptions.
Communicating with a Consumer During Validation Period: Human agents can make a mistake and try to establish communication with the consumer or pursue collection efforts after receiving a request for verification of a debt made within the 30-day validation period. On the other hand, Digital Voice Agents are configured to not engage in any such activities and trigger the automatic collection calls once validation period is over.
Misrepresentation & Threatening Arrest or Legal Action: With variable incentive as a major wage component, it's quite common for debt collectors to misrepresent as attorney or law enforcement officer. FDCPA prevents such kind of misrepresentation and has punitive enforcement directives. Digital voice agents follow strict protocol and never succumb to such malpractices.
The abusive or Profane Language used during communication related to the debt is prohibited. Digital voice agents never fall back to such practices in order to achieve the results.
Communication with Third Parties: revealing or discussing the nature of debts with third parties (other than the spouse or attorney) is prohibited except to know the location of the debtor without mentioning debt related information. Intelligent Voice Agents can confirm the right party before giving out any information.
Raise a Dispute: Voicebot can also help consumers raise a dispute over a call and tag it in the CRM so that the relevant team can pick it up.
Validation: Upon asking for validation information, the voice bot can immediately send the electronic copy of the validation notice and mark the contact with a relevant tag so that human agents can see the status, and neither the voicebot nor human agents try to communicate to the consumer for the next 30 days.
Raise Tickets: Voicebot can even raise tickets to send the physical copies of the validation notice if explicitly requested by the consumer.
With Distinct Advantages, Voice AI Will Play a Bigger Role in Compliance Management
Apart from numerous other use cases, the utility of Intelligent voice agents in improving the compliance of debt collections agencies is fast emerging and very promising.
Apart from the direct costs of compliance, indirect costs such as fines and penalties take a heavy toll on companies. Today, compliance has become more than an expense but a source of differentiation. Many companies have already begun adopting Voice AI, and its ever-expanding use cases will help them create a distinct competitive advantage.
For more information and free consultation, let's connect over a quick call; Book Now!
Also, for more information visit our Collections Page.
---
Resources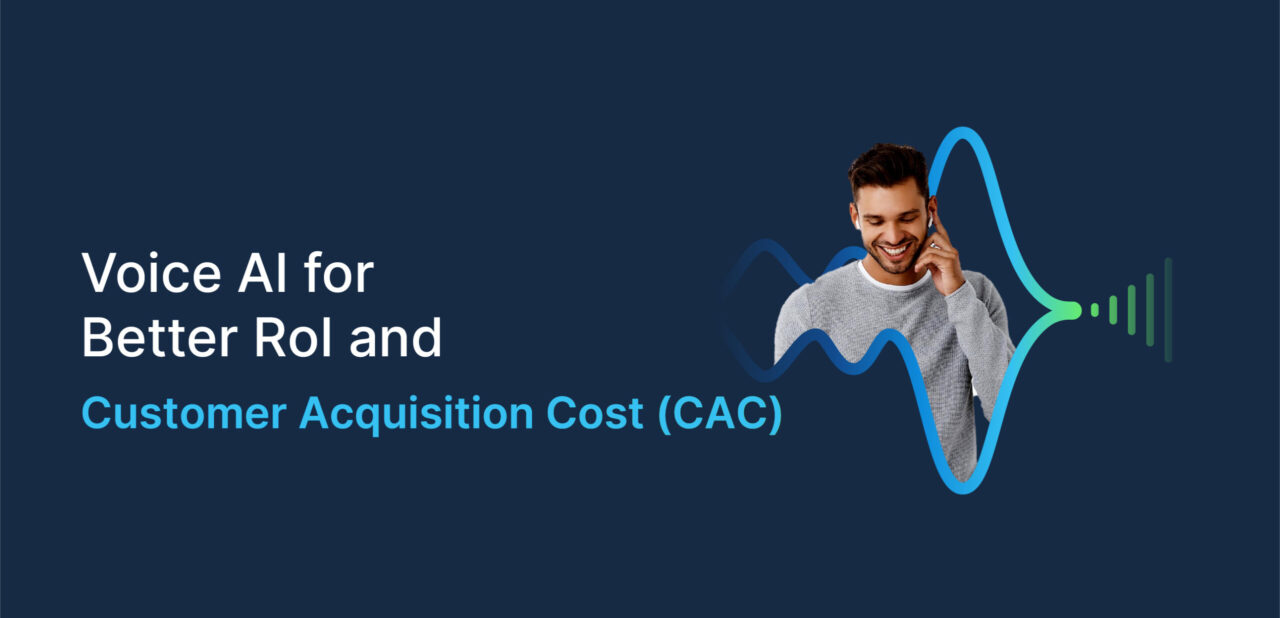 Blog
Why CFOs Must Consider 'Voice AI' for Better ROI and Customer Acquisition Cost (CAC)
CFOs see numbers such as ROI and behold the beauty hidden within them. Today, Voice AI is churning out such convincing stats that every CFO must consider investments in Voice AI in an amicable light. Business-customer interaction is a two-way street. Interestingly Voice AI solutions are ideal for both Outbound and Inbound calls. Companies are […]
Learn More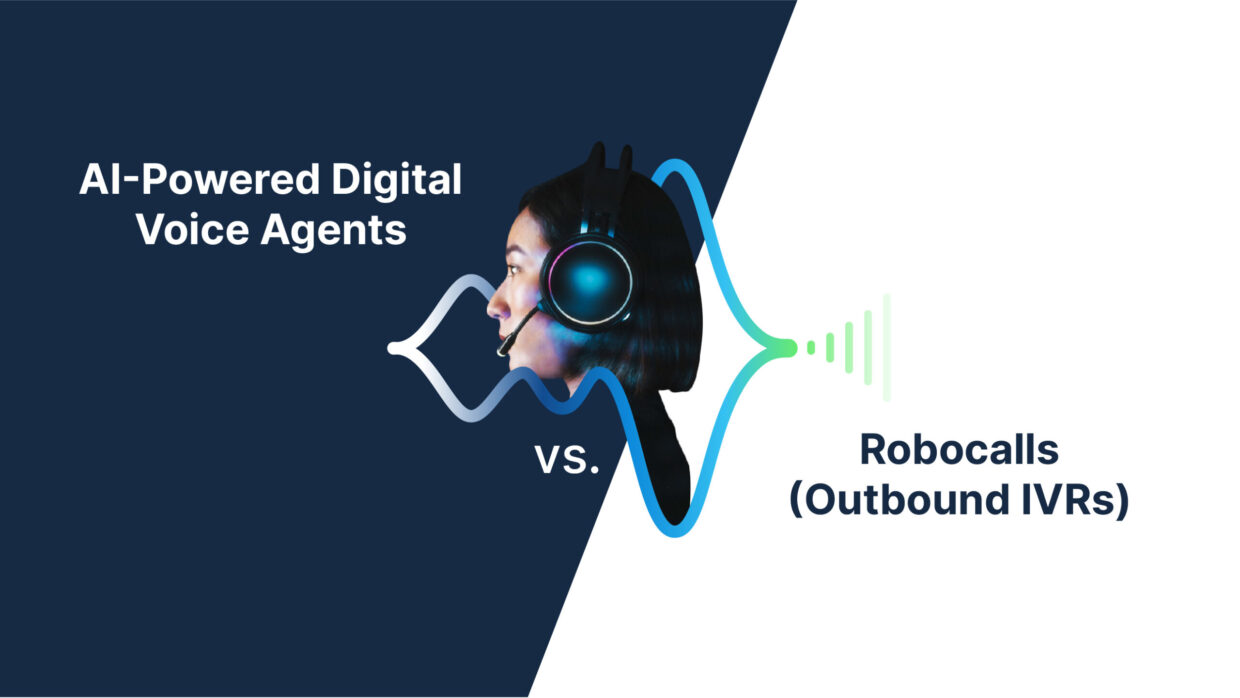 Blog
Outbound IVR Robocaller Vs AI-Powered Digital Voice Agents 
One in four Americans (28 %) have at least one debt in collections. It underscores the significance of debt collection services. As more consumers depend on credit for multiple purchases from homes to vehicles, household appliances, and sometimes everyday living expenses, debt collection services are playing an even more significant role in the availability and […]
Learn More