The U.S. economy has been shrinking, with many experts pointing out that technically we have already entered a recession, as the economy has now contracted for two consecutive quarters. Fears of a recession have dominated most sectors of the economy over the last few months.
The economy is slowing, inflation is high, and the Federal Reserve has been increasing its interest rates, and yet the data suggest that we find ourselves in a more complex and nuanced situation. Unemployment is still very low and the economy has been adding hundreds of thousands of new jobs each month, suggesting that it's not all doom and gloom.
The latest reports, however, predict there will be a "mild recession" between 2022 and early 2023, with inflation being a major indicator of the direction the economy is headed towards, according to authoritative institutions such as Bank of America and Wells Fargo.
How can your contact center prepare for a recession? How can you rely on technology to future-proof your contact center operations?
How Does a Recession Threaten Contact Center Operations and Customer Service at Large?
It's impossible to predict what a possible recession will look like. Each past recession has been different, and the best businesses can do is prepare and future-proof their organization across all departments, optimizing their operations and cost-correcting wherever possible.
The possible threats that a recession may pose to your contact center may be:
Budget cuts: The overall business may have reduced profits and management might decide to cut costs across various departments. This will leave you to manage the same workload as before, but with less resources, and you might be forced to let go of some of your agents.
Increased call volumes: While your funds might decrease, inbound calls and customer queries might actually increase.
Chain reaction: As your resources become more limited and you're unable to offer the same level of customer service as before, the overall customer experience will be affected, causing the loss of customers. This chain-reaction can spark a vicious cycle in which the contact center management may be held responsible for the loss of customers.
5 Steps Contact Centers Can Take To Prepare for a Recession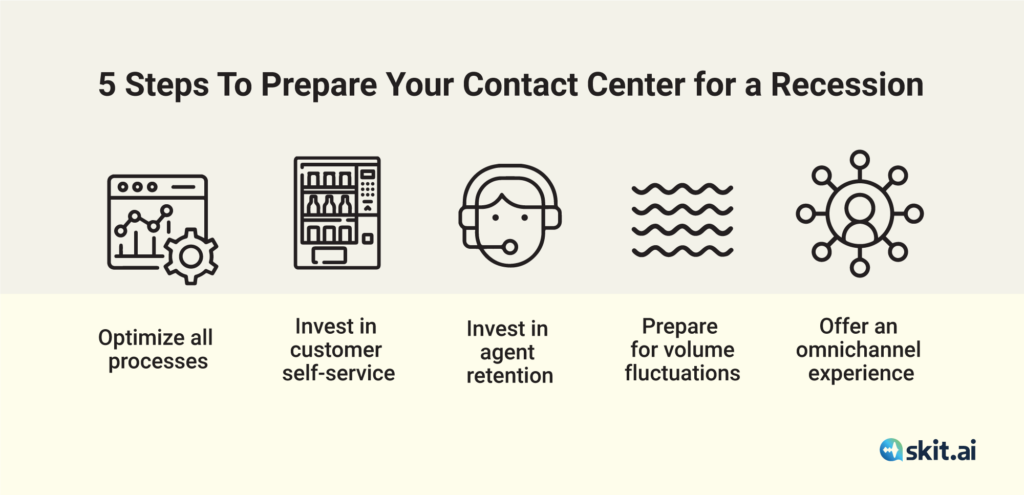 Optimize All Processes
To make your business recession-proof, the first step is to optimize all of your internal processes and workflows. Analyze the existing processes and the customer journey:
Can you identify any pain points?
Where are resources missing and where are they abounding?
Are there any workflows that can be shortened or reshuffled?
Are there any tech tools to add to your stack that can help with any of the issues you've identified?
Invest in Customer Self-Service
The existing data on customer service and customer experience indicates that customers expect companies to offer self-service customer care options. 39% of U.S. consumers find it very important to have access to a fully self-serve customer care option available to resolve their issues, according to a report by Emplify.
Self-service customer service allows customers to view, change and cancel their orders, make payments, request information, make a reservation, request technical support, and solve common issues on their own without the need to involve a human agent; this can be done through the company's website, a mobile application, or an AI-powered Digital Voice Agent.
Invest in Agent Retention
Agent attrition in contact centers tends to be high. The current data suggests that contact centers have at least a 35-40% attrition rate. This trend creates additional expenses, as the business needs to cover recruiting, hiring, and training costs each time an agent leaves their job.
Investing in agent retention is a must for businesses preparing for a recession. You want to keep your agents happy and make sure they don't feel overly stressed or overwhelmed with calls. If you have to let go of some of your agents, you should adopt a strategy to hold on to the ones you plan to keep. Consider adopting tech solutions that could automate some of the most repetitive and tedious agent workload.
Prepare for Call Fluctuations
As query volume becomes more volatile, contact centers may experience more fluctuations in volume of inbound calls, needing more or less resources depending on the time. Agencies should develop a strong plan to address these scenarios; plan ahead even if you might not be experiencing this issue yet.
Offer an Omnichannel Experience
Customers expect to get assistance and care seamlessly and across an integrated network of touchpoints, devices, and apps. The COVID-19 pandemic has certainly made the importance of digital customer service and omnichannel experiences more prevalent, accelerating a phenomenon that was already taking place.
Recently, the customer service industry has begun focusing on an alternative strategy, focusing on an optichannel or optimal channel CX strategy. Each company must focus on the best channels and apps for their specific customers, products and services. No matter what strategy you adopt, customer experience should be front and center.
How Contact Centers Can Rely on Voice AI To Prepare for a Recession
Adopting technological solutions that can help you automate processes and improve your customer and employee experiences is one of the best ways to future-proof your business, especially as we prepare for a possible recession. For customer service, online chatbots and Voice AI are excellent solutions to consider.
Voice AI consists in the adoption of AI-powered Digital Voice Agents to receive all inbound calls and perform some of your outbound calls; it is becoming more and more popular among businesses and consumers.
The Digital Voice Agent is able to help customers with the most common queries and can reroute the more complex queries to your human agents. When you enable the perfect synergy between human and digital agents, you de-facto adopt an Augmented Voice Intelligence strategy.
In a recession, you not only want to save money, but you also want to ensure you maintain a competitive edge over your competitors. Looking into the adoption of artificial intelligence technologies that can automate your operations is key to securing a competitive advantage.
To learn more about how to modernize your contact center, schedule a call with one of our experts using the chat tool below!