Many debt collection companies are evaluating emerging technologies and looking into digital transformation. You can't blame them: due to a faltering economy, rising costs, and high agent attrition, new processes and solutions are needed.
As a result, within the next three years, one in every ten interactions with call center agents will be voice bots driven, according to the new Gartner report. These findings are directly attributable to the spectacular rise to the advances in conversational artificial intelligence (AI), along with the mounting challenges we detailed above.
The report also estimates that by 2026, Conversational AI could save about $80 billion in labor costs! That is a significant number, indicative of the merits that early adopters will have in terms of cost, CX, and expansion of top and bottom lines. But, starting early is key to competitive advantage.
It is an open secret that high human agent churn is due to the fact that most calls are low-value and tediously repetitive. By handling these calls, Conversational AI will make the agents' jobs more exciting and fulfilling, allowing them to focus on high-value and complex calls.
Globally, there are approximately 17 million contact center agents, and their cost makes up 95% of contact center costs. By intelligent call automation led by voice-intelligent technology, Voice AI, a big part of unproductive calls can be taken over by Digital Voice Agents, yielding high cost and CX advantages.
The Direct Cost and Efficiency Benefits of Voice AI for Debt Collection Agencies:
The most significant takeaway for the debt collection agency is that the benefits of Voice AI implementation are tangible and quickly realizable. But before we go into stats, here is a simple explanation of what essentially happens in a debt collection agency when they deploy a voicebot.
Voicebot Functioning
A voicebot is a conversational Voice AI application that can understand what the customer is saying as it is trained for a specific customer problem. It can strike a meaningful conversation with the customer. This happens because the entire conversation design has been done keeping in mind all the possible difficulties a customer can encounter.
So for every customer query, the voicebot has a ready answer as it pulls out relevant information from the client system and informs the customer, cutting the duration of the conversation remarkably.
Digital Voice Agents (DVA) Vs. IVRs: It is worth mentioning here that DVAs are remarkably different from IVRs; in fact, there is no comparison between the two. DVAs are at the cutting edge of the technological spectrum, while IVRs are legacy technology.
IVR can not converse. It is an unintelligent technology that runs a tedious exchange of inputs and outputs. For something as sensitive as debt collections, it is remarkably unsuitable.
Digital Voice Agent is AI-powered, built on Spoken Language Understanding (SLU) and context-rich conversational designs.
Dive deeper: The difference between Digital Voice Agents and Outbound Robocallers
For a debt collections company, the two main categories of calls are Inbound and Outbound. Here is the process of value creation:
Inbound Calls: Many agencies cannot process a significant portion of customer calls. From them, a tiny fraction of customers have called to pay and perhaps need guidance.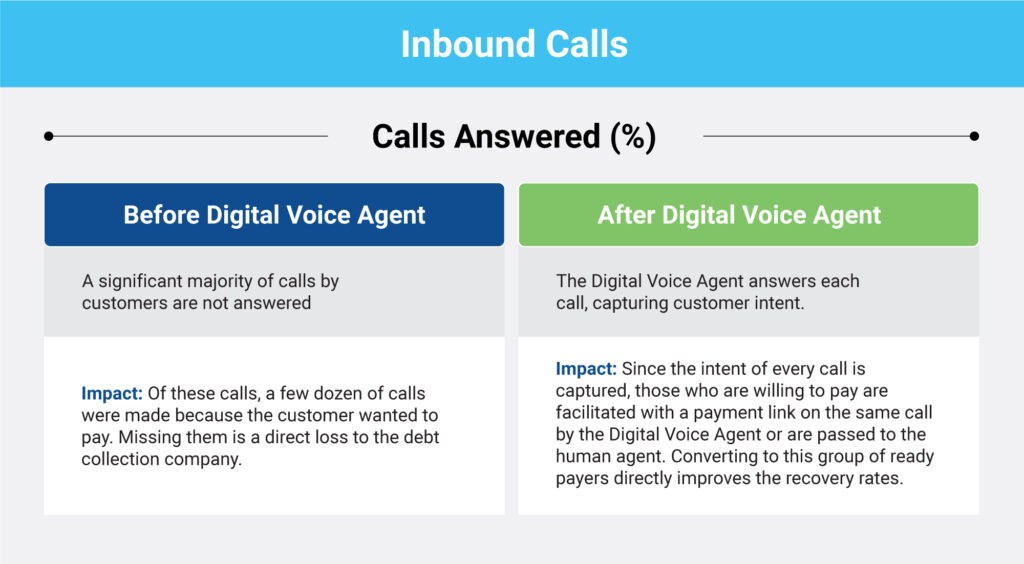 Answering Non-revenue Generating Calls
The data from various sources is precise: A majority of calls are so simple that answering them by a human agent does not add any value to the company.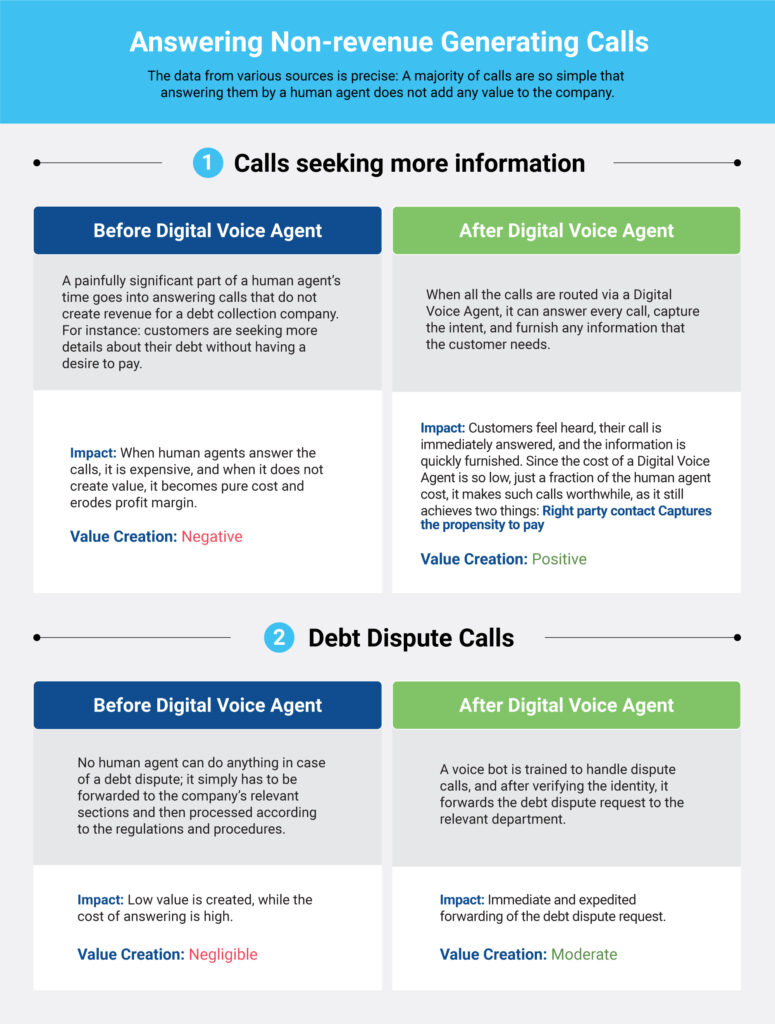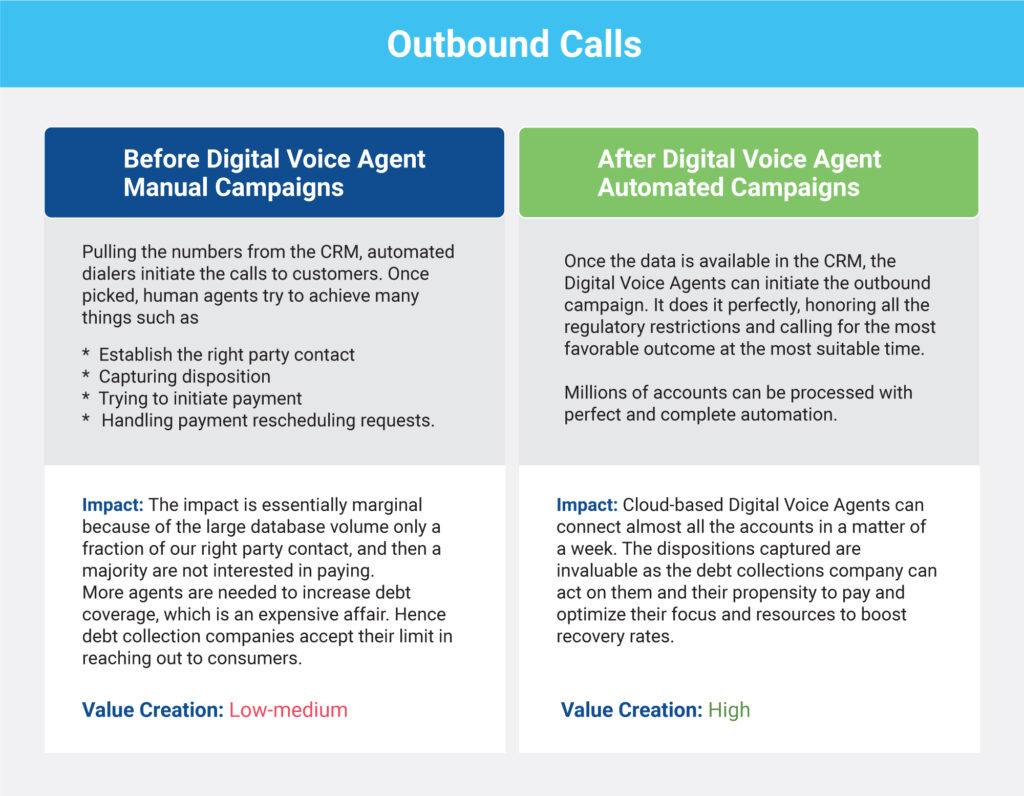 We've discussed the value of adopting a Digital Voice Agent for call automation. If you want to learn more, take a look at our Resources page, in which we regularly explore current topics related to the ARM industry.
Understanding the Top and Bottom Line Impact of a Voice AI Solution on a Debt Collection Company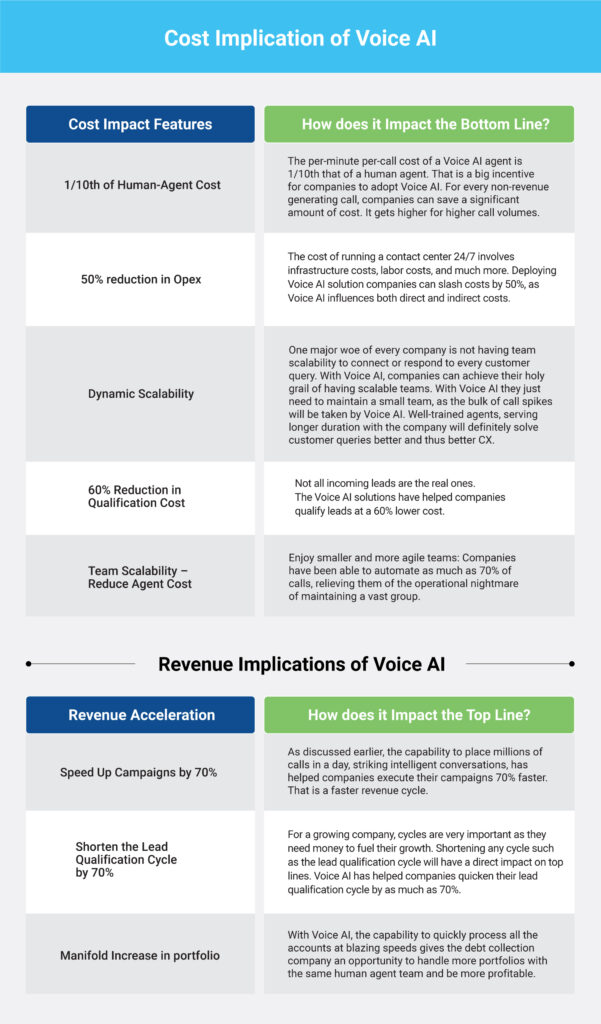 The Final Word
Voice AI has proved its capability in bringing about a transformation of contact centers either with a small team or a big one. As its adoption increases, it will become a technology that can deliver sustainable cost advantages as well as a competitive advantage.
Refer to our Voice AI page for more information about its transformative potential.
Book a demo with one of our experts-www.skit.ai