Auto finance companies dealing with collections face a pivotal moment of seemingly unprecedented activity.
Here's what's happening right now: car prices have hit a record high, interest rates are skyrocketing, and — as a consequence — the auto finance industry is facing a high number of delinquencies. As they find themselves with very high numbers of loans, lenders and collectors have to drastically scale up the number of outbound calls to borrowers.
While challenging times are not always fun, they also allow us to think outside the box and come up with innovative solutions. In this article, we'll go over some of the major challenges related to auto finance collections and explain how Voice AI and call automation can solve each of these problems.
A growing number of auto finance companies are starting to look to Voice AI (the use of automated voicebots) as the go-to solution to handle both outbound and inbound calls with customers and borrowers. In particular, voicebots are used for collection calls and payment reminders.
Voice AI-powered Digital Voice Agents can handle human-like conversations with users, eliminating wait times and enabling a much larger number of calls to be handled at the same time. A Voice AI technology like Skit.ai's Augmented Voice Intelligence platform allows auto finance companies to handle collection campaigns at a fraction of the cost.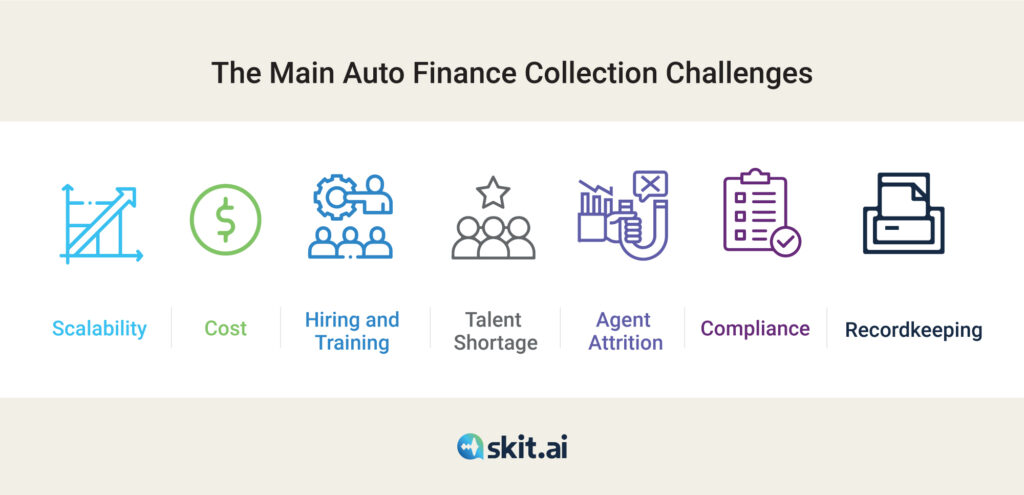 Challenge 1: Scalability
Auto loan volume varies significantly depending on the year and the season. Anyone who has been in the industry for a while can tell you that they've seen very busy seasons as well as quieter ones. Because of the unpredictability of these changes, it can be difficult for an auto finance company to easily adapt and scale either up or down. When facing a particularly busy period, auto finance companies need the ability to quickly scale up to handle larger volumes of loans and customers.
How Voice AI can help you solve this challenge: Voice AI enables auto finance companies to scale up and down with just a few clicks, deploying as many Digital Voice Agents as they need depending on the year and season. As soon as loan volume goes down, the company can simply scale down its use of the Voice AI solution.
Challenge 2: Cost
Collections can be an expensive process. Agents or collectors typically have very large portfolios, with many accounts to reach out to; because the process still tends to be manual for the most part, it takes time. Additionally, if your collectors take a commission, that can also reduce profits.
How Voice AI can help you solve this challenge: By automating the collection process, Voice AI can significantly augment the work of your live agents on the floor, contact many customers simultaneously, and massively reduce costs. Additionally, an AI-powered Digital Voice Agent does not take commissions!
Challenge 3: Hiring and Training
A poorly-trained team of agents and collectors can be a recipe for disaster. As new loans pile up and many become delinquent, it can be tempting to throw new employees into the midst of the action; but if the agents are not qualified and they are not familiar with the existing laws and regulations, you might find yourself in trouble in no time.
How Voice AI can help you solve this challenge: A Digital Voice Agent requires minimal training at the very beginning of the deployment process. After that, you can easily tweak its conversational flows and capabilities with just a few simple changes to the Voice AI platform, either on your own or with the help of your provider.
Challenge 4: Talent Shortage
Since the pandemic and the Great Resignation, many industries, including the auto finance and debt collection industries, have been faced with a shortage of talent. The lack of human capital poses serious challenges to auto finance companies, whose teams and management need to deal with overwhelming workloads. Attracting talent can be a costly endeavor.
How Voice AI can help you solve this challenge: Automation is the answer to the human capital shortage. Voice AI can fill the gaps created by the lack of talent and help the existing team members handle the most repetitive and mundane calls. The adoption of a debt collection software like Skit.ai's platform can solve this problem in a very short time.
Challenge 5: Agent Attrition
While it's hard to define the exact attrition rate in the collections space, from talking to many companies operating in both the collections and the auto finance industries, we know that attrition is a real challenge for them. In a 2016 Consumer Financial Protection Bureau survey, large debt collection agencies reported an average turnover rate of 75% to 100%.
Agents and collectors are often dissatisfied, frustrated, and understimulated, so they hop on to the next job opportunity as soon as they find one, whether it's because the pay is better or because they think the work will be more rewarding.
Every time your company loses one team member, you'll have to undergo the process of recruiting, hiring, and training a substitute, which can be costly and time-consuming.
How Voice AI can help you solve this challenge: A Voice AI-powered agent never gets tired of handling repetitive and mundane tasks. With the help of Voice AI, you can also focus on retaining your existing talent, as you can ensure every team member has the opportunity to focus on more rewarding and complex tasks.
Challenge 6: Compliance
The collections industry is affected by so many laws and regulations that, if you haven't been in this space for a while, it can be overwhelming to understand what you can and cannot do. How often can you call borrowers? Are there any times of the day you can't call them? What do you do if a borrower asks not to be contacted again? How do you handle the privacy of your customers? How should you safely process payments?
These questions are just the tip of the iceberg when it comes to compliance! Think about the TCPA, the FDCPA, the SCRA, PCI standards, and so many others. Additionally, some of these regulations vary depending on the state where the borrower resides.
An auto finance company pursuing collections must be well-versed in these rules and should stay up to date, as lawsuits abound and regulations change relatively often. Better safe than sorry!
How Voice AI can help you solve this challenge: Digital Voice Agents, unlike live agents, don't go off-script, misspeak, or get confused. When they are trained to follow a set of regulations, they just stick to it. With the help of Voice AI, you can let the solution do the work while you handle other tasks.
Challenge 7: Recordkeeping
For an auto finance company, few things can be more disastrous than poor recordkeeping! Especially when it comes to collection efforts, notes, documentation, and records are crucial. That's why total reliance on manual recordkeeping is at best risky and at worst harmful. Collectors should keep track of each interaction with their borrowers so that they can follow up and make progress with each new conversation.
Additionally, other team members — such as fellow collectors and managers — should be able to easily access the notes and track the progress made with each account. Automated notetaking is one possible solution to tackle this challenge.
How Voice AI can help you solve this challenge: A Voice AI platform automatically keeps track of all customer interactions, taking notes of every conversation and capturing payment disposition and propensity to pay. With Voice AI, you get to automate conversations with borrowers, and you can be fully aware of the background and context of each account. Whenever a live agent wants to take over, they can easily do so by looking at the record of the relationship between the auto finance company and the borrower.
---
Are you curious to learn more about how Skit.ai can transform your auto finance operations, customer interactions, and collection efforts? Schedule a free demo with one of our experts using the chat tool below.