You are ready to adopt a Voice AI solution for your contact center, or you are in the process of adopting one — congratulations! Now is the time to think about integrations. In this article, we'll discuss the benefits of integrating your Voice AI platform with various tools and applications, and we'll offer some guidance on where to get started.
What are Voice AI integrations? They are the APIs that connect your Voice AI platform with other tools and applications you may already be using, allowing you to view and control data from multiple sources in one place. Integration augments the system's capabilities, as it ensures a more unified view, allows you to personalize your automated calls, and helps you automate a lot of work that you would otherwise have to do manually.
Integrations are critical — but they vary significantly depending on your industry, your use case, and your specific needs. For example, voicebot integrations for a bank's customer service will be very different from those for a debt collection agency. Additionally, integrations can be tricky from a technical standpoint sometimes, so you want to make sure that your provider has the necessary experience and tools.

Integration with internal systems is the top criterion considered when selecting a conversational AI platform provider, according to research by Gartner.
The most common types of integrations for Voice AI are with Customer Relationship Management (CRM) systems and ticketing platforms, payment gateways, speech analytics tools, and messaging tools. In this article, we'll explain the role and importance of integrations and go over the most common types for various use cases.
What Are the Benefits of Integrating a Voicebot Platform with Other Tools and Applications?
For a seamless collaboration between human agents and voicebots, an Augmented Voice Intelligence solution requires various tools that perform different functions while working well together. Through integration between tools, the entire process can be as smooth and efficient as possible.
The main benefits of integrating your Voice AI platform with other tools and applications are:
Ensuring a better customer experience, as the Digital Voice Agent will be able to perform multiple tasks and better serve the customer

Maximize call personalization, as the Digital Voice Agent will be able to address customers by name, easily access their records, and base its interactions on context

Automating several tasks, freeing the contact center's staff of the administrative burden

Generating automated metrics to track the performance of calls and maintaining records of all customer interactions
Dive deeper: The Unique Advantages of Skit.ai, a Speech-first Voice AI Platform
3 Things To Consider When Thinking about Voice AI Integrations
Stay lean at first. The number-one tip for companies adopting a Voice AI solution is to avoid focusing too much on integrations at the beginning of the adoption process. This is because when you adopt a new technology, it's important you focus on gaining experience with it and fully understanding how it can benefit your business before you invest a lot of time and money in integrating it with several other tools and platforms. First implement the solution with the most basic and necessary integrations, and then you can start investing in the heavier ones.
Your Voice AI solution might be hybrid at first. If your contact center already has an automated response system in place, like an interactive voice response (IVR) system to take inbound calls, you might choose to have the Voice AI solution work hand-in-hand with the existing system at first. That would result in a hybrid approach—in which the first node of the call is handled by IVR, and then, depending on which option the caller selects, you may transfer them to the new Digital Voice Agent (voicebot). If this is the case, you'll need to integrate the two systems so that they can work with each other. Once the Voice AI has been fully tested, you are likely to fully remove the IVR and let the Digital Voice Agent handle all inbound calls.
Data privacy. Data privacy and data protection are elements that you should always keep in mind when integrating different systems. You want to secure the data against unauthorized access, adopting processes like encryption, secure communications protocols, and relevant security policies.
The Most Important Integrations for a Voice AI Platform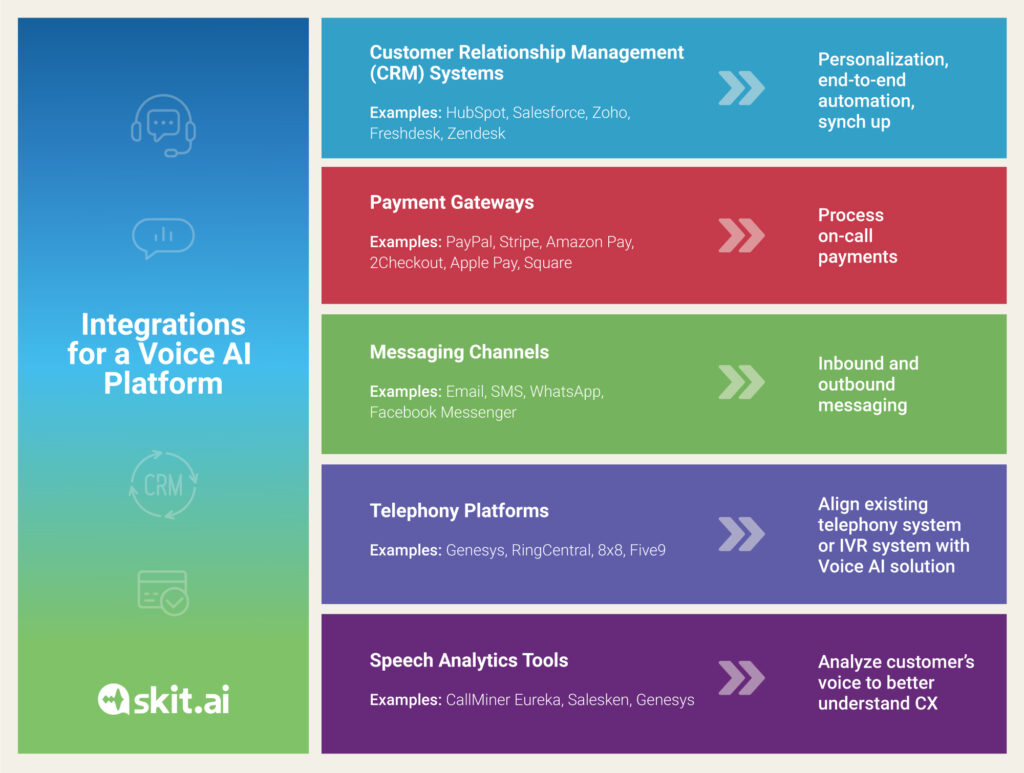 Voice AI Integration with Customer Relationship Management (CRM) Systems
Companies use a CRM software to gather, organize, and manage customer information. The primary benefit of integrating your Voice AI solution with your CRM system is to easily personalize all calls, whether they are outbound or inbound, and automate the calls end-to-end.
For outbound calls, for example, the Digital Voice Agent can gather the customer's information from the CRM and address them on the call by first name: "Hi John, this is a Digital Voice Agent calling from…" The CRM also feeds the DVA more detailed information and context on the customer's existing orders or accounts depending on the use case.
For a debt collection agency, for example, the Digital Voice Agent can gather not only the name of the customer it's calling, but also the balance of their account.
For an ecommerce company, the Digital Voice Agent can quickly gather the information on existing orders, shipping, etc.
This integration also allows customers to open new tickets with the company's customer service. At the end of the call, thanks to the integration in place, the Voice AI solution will feed the new information based on the interaction with the customer to the CRM system. Therefore, the new data will be stored and will be on file.
Examples of CRM systems are HubSpot, Salesforce, Zoho, Freshdesk, and Zendesk.
Voice AI Integration with Payment Gateways
Integrating the voicebot platform with payment gateways or payment applications can make the customer experience significantly smoother and ensure the completion of various transactions during the call without the need to involve human agents. Examples of payment gateways are PayPal, Stripe, Amazon Pay, 2Checkout, Apple Pay, and Square.
Customers can easily pay a bill — for example, a telephone bill — during the call without the need to complete the transaction by opening a link or logging into an online portal.
For debt collection agencies, this integration can be very useful, as customers can make a payment during the phone call with the Digital Voice Agent, making the collection process fully automated, cheaper, and smoother.
Without this integration, in order to complete a payment, a customer needs to change the communication channel, moving to text message, email, or having to access the company's website.
Voice AI Integration with Messaging Channels
For an omnichannel experience, it's best to integrate the Voice AI platform with various messaging channels, at least those that your company uses the most to interact with its customers. Examples of messaging channels are email, text messaging (SMS), WhatsApp, Viber, Signal, Facebook Messenger, and Instagram.
Messaging integrations can be used both for inbound and outbound messages.
Outbound messaging:
Confirmations and receipts. After a customer has made a payment during a call with the Digital Voice Agent, the company can send a payment confirmation and receipt to the customer. Confirmations can also be sent for any other type of transaction or request, such as a travel reservation change.

Payment link. The company can send a link to an online payment portal via text message (SMS) or email during an automated call with the Digital Voice Agent.

User authentication. While a user can be easily authenticated on-call by the Digital Voice Agent, authentication in other instances can also take place in a chat tool before or during the call.

Inbound messaging:
Collection of images or other information from the customer. During a customer service call, the Digital Voice Agent might ask the customer to send an image or the photo of a receipt via SMS. This integration can be used to allow customers to send any type of information to the company during a call with a Digital Voice Agent.

Voice AI Integration with Telephony Platforms
Many companies might already have a telephony system in place when they decide to adopt a Voice AI solution. Examples of telephony and call center platforms are Genesys, RingCentral, 8×8, Five9.
Integrating the Voice AI platform with your company's existing telephony platform will certainly make the adoption of Voice AI smoother, especially if you already have some level of call automation or IVR in place.
If the adoption of the Digital Voice Agent is gradual, and the system is hybrid at first, this integration allows your company to align both IVR and Voice AI solutions side-by-side.
Voice AI Integration with Speech Analytics Tools
Many businesses also use speech analytics solutions to analyze the phone conversations they have with their customers. These tools transcribe the text of the phone call and then analyze the voice of the customer, discern their feelings, identify emerging issues, and further your understanding of the customer experience (CX).
Examples of speech analytics solutions are CallMiner Eureka, Salesken, and Genesys.
If you have further questions on Voice AI integrations or you're ready to start exploring how a Voice AI platform can take your contact center operations to the next level, contact our experts using the chat tool below!