When we talk about Voice AI for customer service, we immediately think about the benefits of the technology for the customer experience. Having an intelligent Digital Voice Agent address customer queries results in no wait time and a quick resolution to the most common issues.
Augmented Voice Intelligence (AVI), however, also deeply transforms the human agent's experience at the contact center. This is what we can refer to as employee experience.
As a Senior Solutions Product Manager at Skit.ai, I've visited several large contact centers both before and after the implementation of our AVI solution. I've had the opportunity to chat with many agents and hear their perspectives on their work and feedback on our technology.
In this article, I'll explore how AVI affects the employee experience and how this ultimately impacts the overall business performance.
Contact Center Agents Before AVI
Contact center agents have a very monotonous job, as they often have to perform the same tasks and address very similar customer queries countless times per day. "Please verify your name," "What's your order number?" and "This is your current balance" are just some examples of sentences that contact center agents have said thousands of times.
This type of job tends to be quite tedious for human agents, since they are not required to think creatively and critically to solve the customer queries and they're mostly just reading from a script.
Additionally, there is not much room for growth for agents. Because the tasks they are asked to perform are so repetitive, they're likely to change jobs as soon as the opportunity arises. The current data suggests that contact centers have at least a 35-40% attrition rate.
In summary, all of these factors often contribute to an understimulating environment, lower employee morale, and a high attrition rate.
Contact Center Agents After AVI Implementation
Enter AVI — Augmented Voice Intelligence.
The concept of Augmented Voice Intelligence is based on the belief that the combined power of humans and AI can lead to a much more effective, smoother workflow for contact centers, improving both customer and employee satisfaction. AVI is collaborative in nature: the Voice AI technology performs routine tasks while human agents can focus on more complex queries.
So what's the experience of a contact center agent once AVI is implemented?
First and foremost, the vast majority of queries are addressed by the Digital Voice Agent, which only reroutes the more complex queries to the human agents at the contact center. Once a customer is routed to a human agent, the Voice AI interface provides the agent with the contextual information on the customer and their case, making the conversation flow smoother and easier for both parties.
Because AVI implies a collaborative effort between the agents and the technology, it's important to familiarize the employees of the contact center with the Augmented Voice Intelligence Platform upon its implementation. In my experience, agents tend to get quite excited as they learn about how the technology works and the way it affects their day-to-day workflows.
It's always fun to see the excitement in the eyes of the agents—they usually want to talk to me, learn more, and ask for more in-depth training sessions.
Read more: Is Voice AI a threat or an opportunity for contact center agents?
How AVI Empowers Contact Center Agents to Get Involved and Suggest Improvements
Not only Voice AI improves the agents' experience at the contact center. Because the agents are so familiar with most use case scenarios, they often have valuable ideas on how to improve the Digital Voice Agent.
During my visits to contact centers, I've often encountered agents who asked me: "Can you please involve me in the machine learning process?" They want to pitch ideas and contribute to the features of the Digital Voice Agent.
Other times, the agents asked me for insights coming from the Digital Voice Agent: "What are the main keywords customers are using? What are the patterns the AI has found so far?"
In summary, this is how the employee experience is enhanced by Voice AI:
Agents are no longer confined to the same, repetitive tasks all day
Agents get to be more productive, feeling more helpful and motivated
Agents can get involved in the machine learning process
Dive deeper: Digital Voice Agents — What, Why and How
At Skit.ai, we've been big proponents of the idea that the combination of customer experience and employee experience shapes the broader business experience: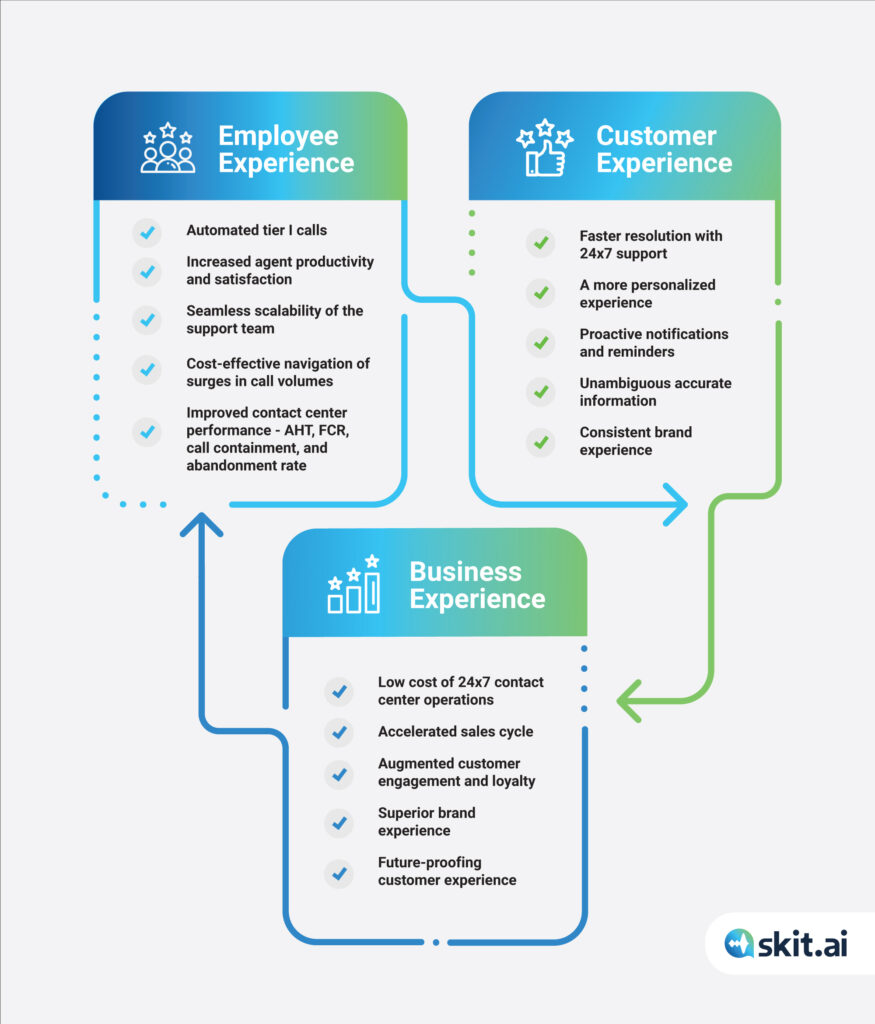 If you want to learn more about Skit.ai's Augmented Voice Intelligence platform and speak to one of our experts, you can book a demo.