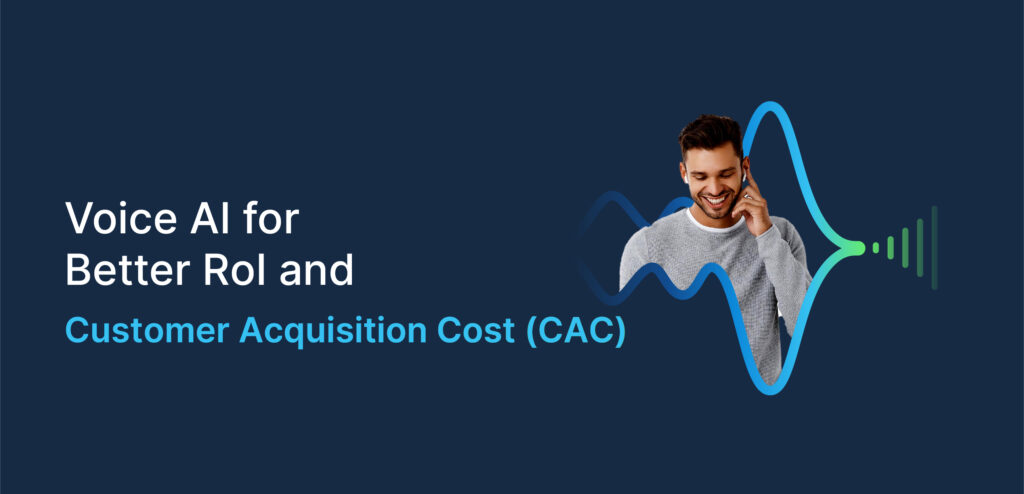 CFOs see numbers such as RoI and behold the beauty hidden within them. Today, Voice AI is churning out such convincing stats that every CFO must consider investments in Voice AI in an amicable light.
Business-customer interaction is a two-way street. Interestingly Voice AI solutions are ideal for both Outbound and Inbound calls. Companies are spending millions to reach out to potential customers. Engaging human agents has proved expensive and a significant managerial challenge. Deploying Voice AI helps companies achieve their most coveted goal – cost-efficient scale.
Voice remains the most-preferred channel for customer service. However, around 70% of all customer service requests are non-critical and repetitive, making it challenging for human agents to remain engaged, motivated, and empowered to solve everyday challenges. By taking away the bulk of the calls, Voice AI helps agents create value by solving complex customer problems and enjoying their job. Also, every company covets 24×7 intelligent customer support that is not entirely human agent dependent, and Voice AI is the perfect solution.
Core Challenges Contact Center Face
Contact centers for any organization, small or big, are complex institutions and face some key challenges:
Human Dependent Processes
Cost Reduction
Optimizing Resource Utilization
Agent-time Utilization
Updating Legacy Systems
Delivering Consistent Customer Experience
Sadly, with IVRs, most contact centers have reached a point of saturation, where they have automated, measured, and monitored the operations with no further scope of improvement. Augmented voice intelligence is a technology that opens up new opportunities for creating value and growth.
Automate Non-revenue Generating Transactions with Voice AI
Shockingly, agents spend over 30% of their time on zero-value, non-revenue generating tasks that Voice AI could easily automate. Here are a few examples:
Providing account balances
User/Caller Verification
Removing wrong numbers
Updating phone numbers and addresses
Do not call handling
Bankruptcy data capture
Frequently asked questions
And more
These functions are essential to proper functioning but do not create revenue for the company. They prove costly as they consume expensive agent time and loss of opportunity cost as the same effort could have gone into revenue-generating transactions.
These are just the lowest hanging fruits of Voice AI, and the technology is capable of creating enormous value.
IVRs have reached their zenith and are now causing customer dissatisfaction. Advanced solutions are the need of the hour. Chatbots are advanced and capable, but they suffer from one serious drawback – 'voice' is the most preferred mode of customer support, not text. Voice AI can be a disruptor, accelerating digital transformation and creating a world of difference in the customer experience.
Before we deep dive into the transformation contact centers can undergo with Voice AI, you can refer our blogs – Meeting Debt Collection Compliance With AI-Powered Digital Voice Agents and how a Digital Voice Agent is different from all the existing solutions.
Transforming Contact Centers: Outbound
How do Voicebots help achieve operational excellence and reduce customer acquisition costs (CAC)?
Banks and financial institutions looking for growth and expansion reach out to hundreds of thousands of potential customers. An Intelligent Voice Agent can help a company reduce its customer acquisition cost by executing, with perfection, the various steps of the process such as:
Lead Qualification
Lead Generation
Onboarding, and Documentation
Debt Collection
Subscription Reminders
Feedback Collection
And More.
Instead of a human agent calling, following up, and coordinating, which is time-consuming and costly, a voice agent can finish the tasks at a fraction of the cost and expedite the sales cycle. It reduces the customer acquisition cost as a result.
Perfect execution of such efforts at a large scale can make a radical difference for companies. Not only does CAC go down, but the results are also better. A win-win for companies.
Voice AI will always come as a powerful tool when a company wants to run various campaigns at scale.
According to the Deloitte report, the global conversational AI market that includes both chatbots and intelligent voice assistants can grow at a 22% CAGR growth from 2020–to-25, reaching a US$14 billion market size. By partnering with the right augmented voice intelligence platform, businesses can optimize contact center OPEX.
Transforming Contact Centers: Inbound
How automation of voice conversations helps organizations enhance cost efficiency?
Hitherto, IVRs provided a source of rudimentary automation. But their cognitive inabilities are resulting in customer frustration as no one wants to wait in lines for a human agent and start all over.
Voice automation is helping businesses free their operational bandwidth by answering simple calls, saving human-agent time, and reducing operations costs by 40-60%. Voice AI is thus empowering businesses to address significant challenges by automating repetitive queries, reducing wait time, and providing a delightful customer experience through human-like conversations.
Optimizing and automating processes is key to enhancing cost-efficiency. Here is how Voice AI helps in achieving this goal:
Self-service Optimization: On average, around 70% of calls fall in the non-urgent category. The intelligent voice agent can take most of these calls without engaging the human agent, enhancing a company's ability to serve customers 24×7 without a human agent.
Scalability: The most neuralgic point of contact centers is team scalability. With the waning and waxing of call volumes, there is an urgent need to scale the support team. It is a nightmare for managers and has significant cost underpinning. By deploying a Voice AI solution, the intelligent voice agent will handle the bulk of the calls, passing only a fraction to the human agents.
Call Routing and Distribution: The primary focus of augmented voice intelligence solutions is to enhance customer experience. Tier 1 customer issues are resolved automatically with a voice AI agent. Voice AI solutions can prioritize requests and route them to the right human agent where needed. Such intelligent call distribution results in better customer satisfaction.
Meeting Compliance: More significant for collections space and banking, but every industry has a set of protocols and regulations to honor. Human agents handling large portfolios are prone to err. Calling a customer on the DND list or calling outside of time limits often results in lawsuits and penalties. A voice agent can easily be trained for any protocols, saving companies time and money.
Voice AI for Sustainable Business Benefits
Augmented Voice Intelligence has displayed tangible improvements in all of the core metrics targeted by support centers, such as First Call Resolution (FCR), Average Handle Time (AHT), Customer Satisfaction (CSAT), Average Speed of Answer (ASA), Queue Length, Abandonment rate, and other Service level metrics.
The other significant advantage of using an AI-enabled voice product is that it gets better with time, and new use cases emerge. Voice will continue to play the cardinal role in customer support, and early adopters will create lasting competitive advantages.