The State of the U.S. Debt Collections Industry in 2023
Let's start from the data. The U.S. debt collections industry is worth $20 billion in 2023, according to IBIS World research. Given that the industry was estimated to be worth only $11.5 billion in 2018, the growth has been remarkable—approximately 73.9% in just five years.
About half of the market share is dominated by the 50 largest ARM companies, over a total of almost 7,000 businesses.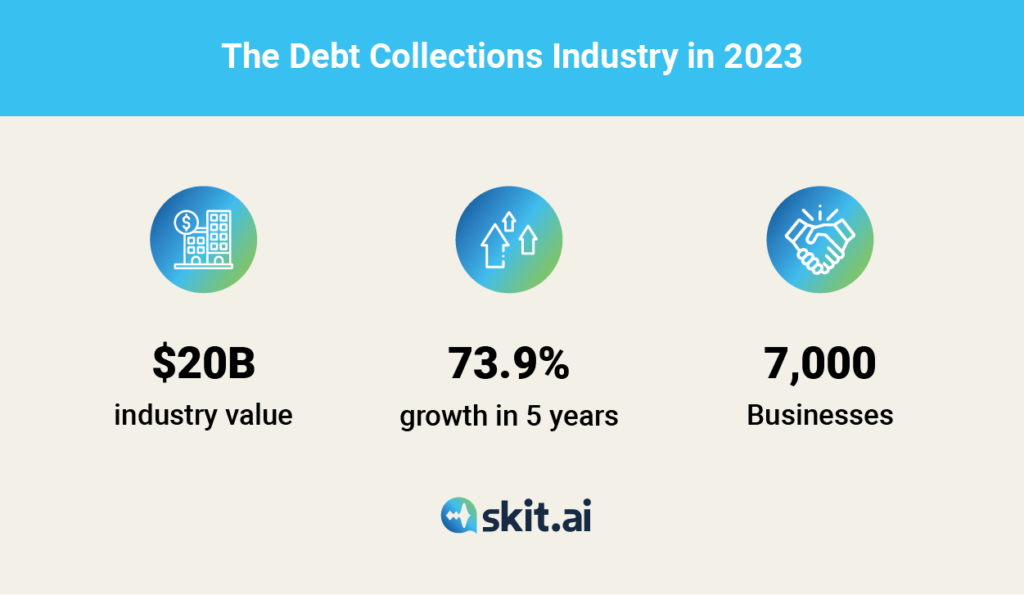 As the industry continues to grow, it has become challenging for executives to keep up with the times. While recovery rates are a key factor influencing competitiveness, technological innovation is the other element defining a company's success. Digital transformation is no longer a "plus" for agencies, but rather a "must," and while many ARM companies have embraced change, there is still a long way to go.
In this article, we'll discuss what it means for a debt collection agency to be agile and adopt a digital-first approach and we'll go over a few examples of types of technology that agencies are adopting.
What Does It Mean for a Debt Collection Agency to Be Agile?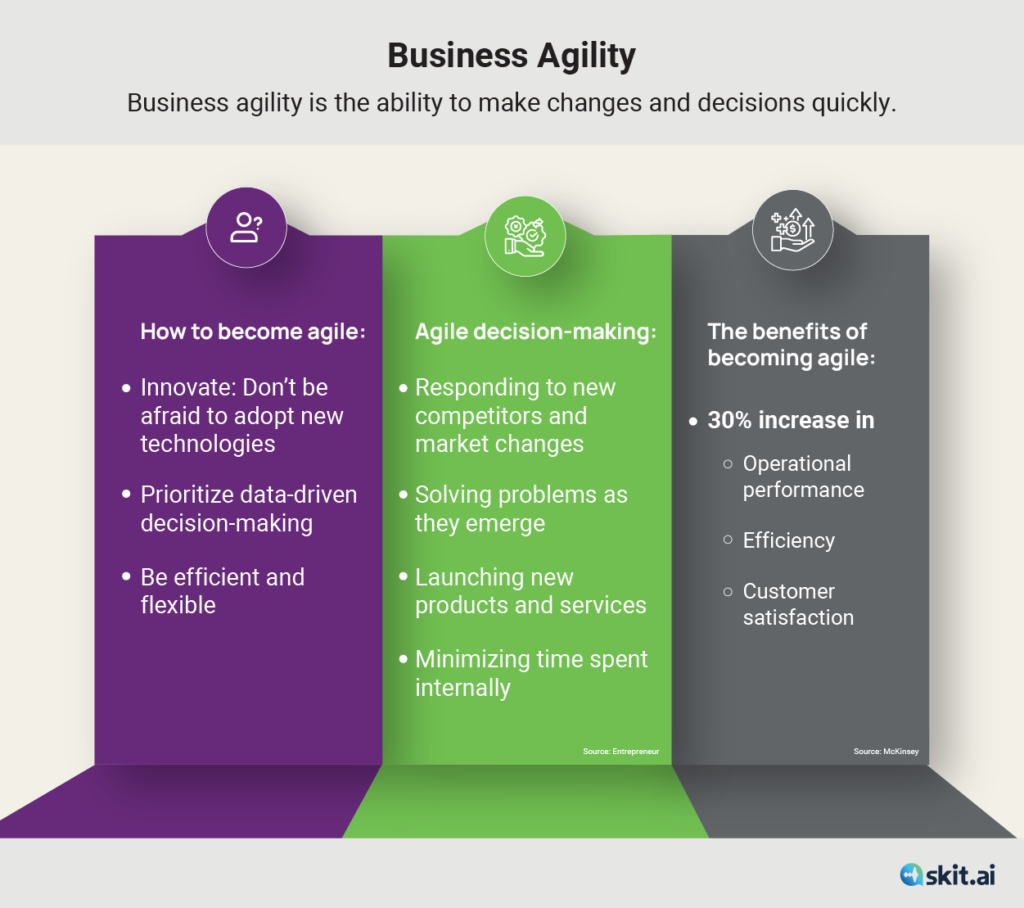 Business agility is defined as the ability to make changes and decisions quickly. Usually, companies become agile by prioritizing data-driven decision-making, efficiency, flexibility, and innovation. In other words, agility is the exact opposite of stagnation.
According to Entrepreneur, agile decision-making can be related to a variety of issues, such as responding to new competitors or market changes; solving problems as they emerge; launching new products and services; and minimizing time spent internally.
Why is it important to be agile? McKinsey has found that companies that undergo a successful agile transformation gain a 30% increase in operational performance, efficiency, and customer satisfaction.
Digital transformation is a key process influencing agility.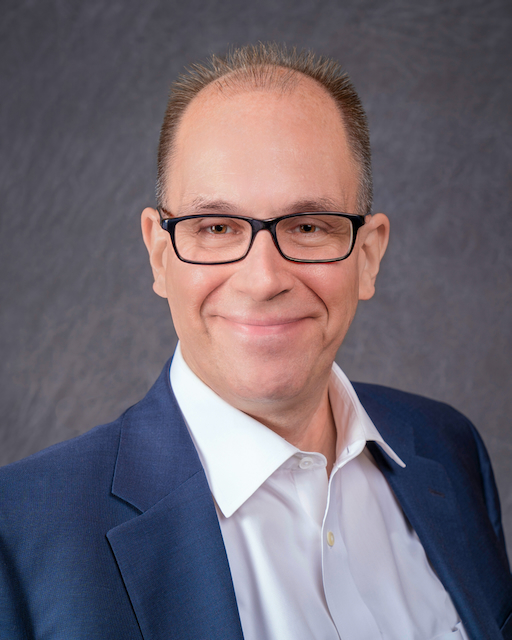 "Some ARM companies have been slow to adopt new technologies and, as a consequence, they are now at a competitive and operational disadvantage," explained Scott Carroll, industry veteran. "Some didn't know they needed technology, or they didn't know exactly where to look and where to start. But now the industry is quickly catching up."
Carroll explained that tight regulations, concerns over compliance, and widespread litigation are some of the reasons why the industry has been lagging behind in innovation. "Businesses have been naturally more cautious. But now, as they get a better understanding of the regulations, they're finally looking toward technology to improve their operational efficiency," he said.
One strength the collections industry has is that it's usually prepared to pivot: "Because of fast-changing regulations and client needs, the industry needs to be prepared to respond to change."
How the Industry Is Catching Up by Becoming Digital-first and Tech-savvy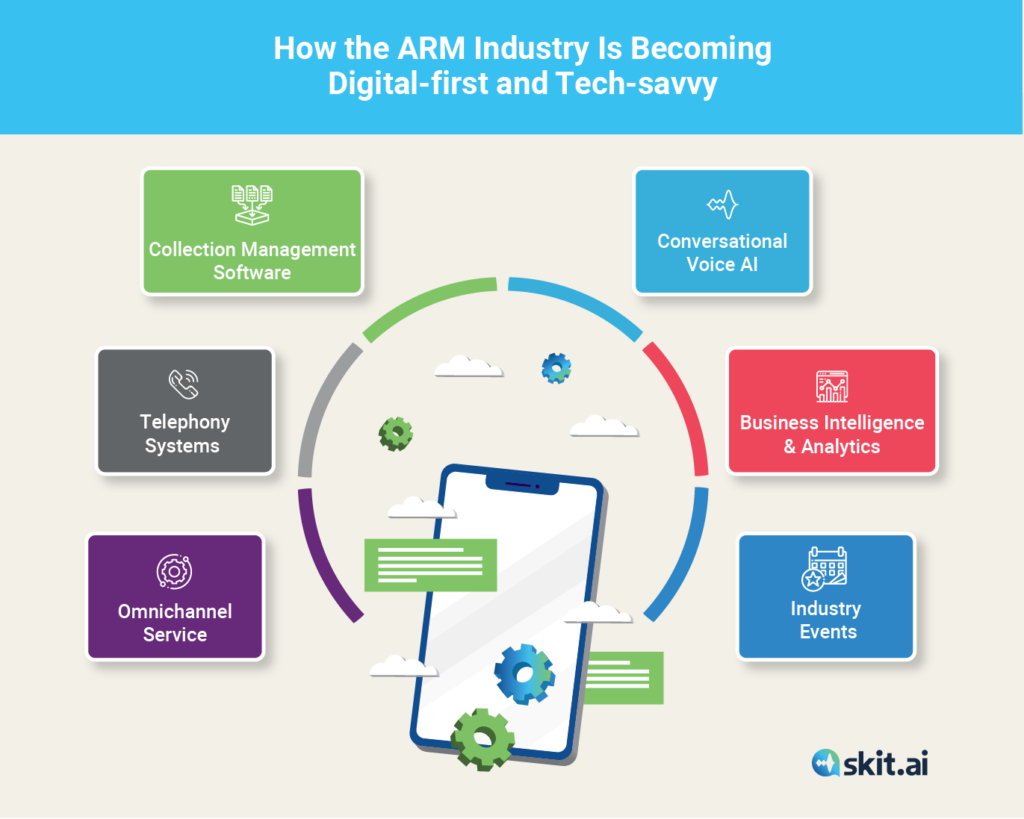 A growing interest in innovation is driving the push toward agility in the ARM industry. Staying updated on new technologies, monitoring emerging tech companies and solutions, and investigating how leading technologies like artificial intelligence can be applied to debt collection are the key tips to implement an agile transformation.
In January 2023, the industry held its first-ever conference entirely dedicated to technology. ARMTech, which took place in Nashville, was a four-day event aimed at helping executives understand the technology that is revolutionizing how debts are collected. The event was organized by Mike Gibb, industry leader and editor of the website AccountsRecovery.net.
The industry is moving toward a digital-first model, as it's evident that consumers prefer to deal with companies offering omnichannel services and interact through digital channels. Omnichannel includes a wide range of channels, such as website, mobile app, social media, telephony, chatbot, voicebot, SMS, and email.
Telephony systems and dialing platforms are essential for any contact center, including a collection agency, whose business largely depends on outbound and inbound calling. These platforms include TCN, Twilio, Genesys, LiveVox, RingCentral, 8×8, Five9, and more.
Collection management software is the other most common type of software adopted by collection agencies. These systems of record enable agencies to manage their portfolios in one easy-to-use, centralized platform updated regularly by the agents.
Conversational Voice AI, the technology behind voicebots, is gaining ground as a widely popular technology in the ARM industry. Skit.ai has developed an AI-powered Digital Collection Agent, which handles human-like outbound calls to collect payments from consumers. The voicebot intelligently interacts with the consumer, handling payment reminders, negotiation, and processing. The Digital Collection Agent does not substitute the human agents but rather augments their work by handling the most repetitive and tedious tasks. This solution can be easily integrated with the other tools in use.
Voice AI should not be confused with IVR (interactive voice response) systems, a legacy technology that requires consumers to navigate lengthy menus through DTMF inputs or basic voice-enabled inputs.
Key players in the industry are also adopting business intelligence and analytics solutions that support agents during and after their calls with consumers. Prodigal's solution offers real-time agent assistance, auto-writes call summaries, and analyzes collection calls on dozens of parameters to monitor and boost performance and compliance.
What's Next?
It looks like 2023 will be a defining year for the collections industry in regard to digital transformation and agility.
"Agility is a key operating factor for success," advised Scott Carroll. "My tip is to stay current on technology, investigate new tools, stay on top of the latest trends, and keep your eyes open for anything that helps you increase your margins and reduce your exposure. This will ultimately lead to increased collections."