Travel bans, tight restrictions, and mass cancellations due to the COVID-19 pandemic are starting to seem like a thing of a distant past as a "revenge travel" trend surges globally!
Data from over 40,000 trip itineraries show that planned American travel to Europe records a whopping 600 percent increase in booking rates compared to 2021. Findings from data estimates by Mastercard show that an uptick in world travelers accounts for 1.5 billion more than last year. Additionally, short and medium-distance travel has gone up from the pre-pandemic level by more than a quarter. While tourism is globally headed to a gradual recovery throughout 2022, travel brands need to up their game to keep up with the evolved customer expectations.
As per recent stats, nearly 96% of customers agree that customer service is a deciding factor for their loyalty, and 86% are willing to pay more for brands that provide superior CX. Thus, it is existentially vital for travel companies to revamp their CX capabilities and look out for technologies that can help them achieve it.
Enter Digital, a Challenge, and an Opportunity!
Digital acceleration is undoubtedly one of the salient impacts of the pandemic. In the travel sector especially, consumers are now demanding more personalized products, greater digital services, or faster turnaround right from no-contact booking for accommodation, scheduling cabs, and travel tickets, to other services like 24/7 support for seamless cancellation, instant refunds, and receiving status updates on the go.
Recently, sentiment analysis of Tripadvisor reviews from the U.S., Europe, and Asia suggested that the emotional intensity of customer reviews increased considerably from 2019 to 2021. This signifies customers' lack of willingness to settle for substandard experiences and growing expectations around cleanliness, food standards, and customer service.
The consumer demographic has also broadened with older, Gen Z (first-gen digital natives) travelers joining the market. These factors are not only accelerating the need for more digital-first strategies for customer engagement but also boosting customer experience (CX) to earn loyalty, resilience, and future-proof businesses.
What's Missing in Customer Service and Why Has CX Plummeted?
Here's a quick recap from the initial stages of the pandemic, travel companies' customer support teams were confronted with unprecedented cancellation rates.
By the third week of March 2020, the average wait time for customers was reported to be two hours and nearly 50 percent of customer calls were unanswered, as per Publicis Sapient research.
Most travel companies with outdated customer service weren't able to predict and keep up with the customer call volumes and saw human resource burnouts and additional opex from recruitment and training.
These findings provided unanimous evidence to digitally revamp customer service operations to allow seamless booking or cancellation as per their convenience. Only leading travel brands seized the opportunity, leveraging a digital-first approach to upgrade their contact centers, automate NLP tools for call analysis, and optimize customer demands across channels.
Bottom line, digital innovation is meant to stay, and it pervades every aspect of the travel industry including customer service.
To sum up, the revival of the travel and tourism business is only possible when the businesses are built on a strong foundation of customer experience.
The Customer Service "Crisis" Areas and the Way Out for Travel Companies
The competitive landscape shows a serious gap in CX levels that only brands like AirBnB have championed by streamlining customer service teams with contact center technologies to get the right message to the customers, at the right time and at the right touchpoint!
McKinsey and Skift in their joint research have very intriguing insights. One, there is still room for improvement of service although companies may think otherwise. Here are the most critical pieces of the travel puzzle:
Inconsistency in CX across products and services
Inconsistent and broken omnichannel can do more harm than improve customer experience. Travel companies must deliver at par with customer expectations, in the modality of their choice, be it voice or text.
Inability to Predict Customers' Sentiments
There is no precedent to the epochal change we have undergone. Still, travel companies must have the capability to understand customer sentiment and personalize their offerings.
Time Lags in Responding and Pivoting
With every precedent thrown out of the window, travel companies have the room to be innovative and offer flexibility and value. It is not easy. They have to personalize on the fly and speed up the response time on the deal to avoid losing customers or becoming irrelevant.
Customer Loyalty is Up for Grabs
No one can rest on their laurels and must deliver quality service every day. Customers are going to switch. This environment of uncertainty is creating a crisis and an opportunity for companies to grab market leadership.
Invest in Voice AI to Augment Customer Experience (CX) Capabilities
This year, global spending on CX technologies has hit $641 billion. Travel companies that are still reeling from the financial shock of the pandemic need to invest in technology to ramp up CX as a key to survival and growth in a continuum. Technologies that allow customers to avail contactless, self-service options, automated assistance, and AI-enabled interactions via a virtual assistant, bots, and apps largely resonate with the CX expectations of today's customers. However, brands need to think outside the box, exploring innovation potential in every touchpoint: chats, emails, messages, and voice-based interactions.
Voice-first technologies like the Voice AI platform help take customer service up by a notch by unlocking the power of customer conversation. Using Digital Voice Agents that automate cognitively repetitive tasks, helps handle tier 1 customer interactions end-to-end and route calls to specialized agents. The automation frees human agents to focus on more complex calls and layered problems.
Dive deeper: How to Transform Customer Experience
Voice Matters in Travel and Hospitality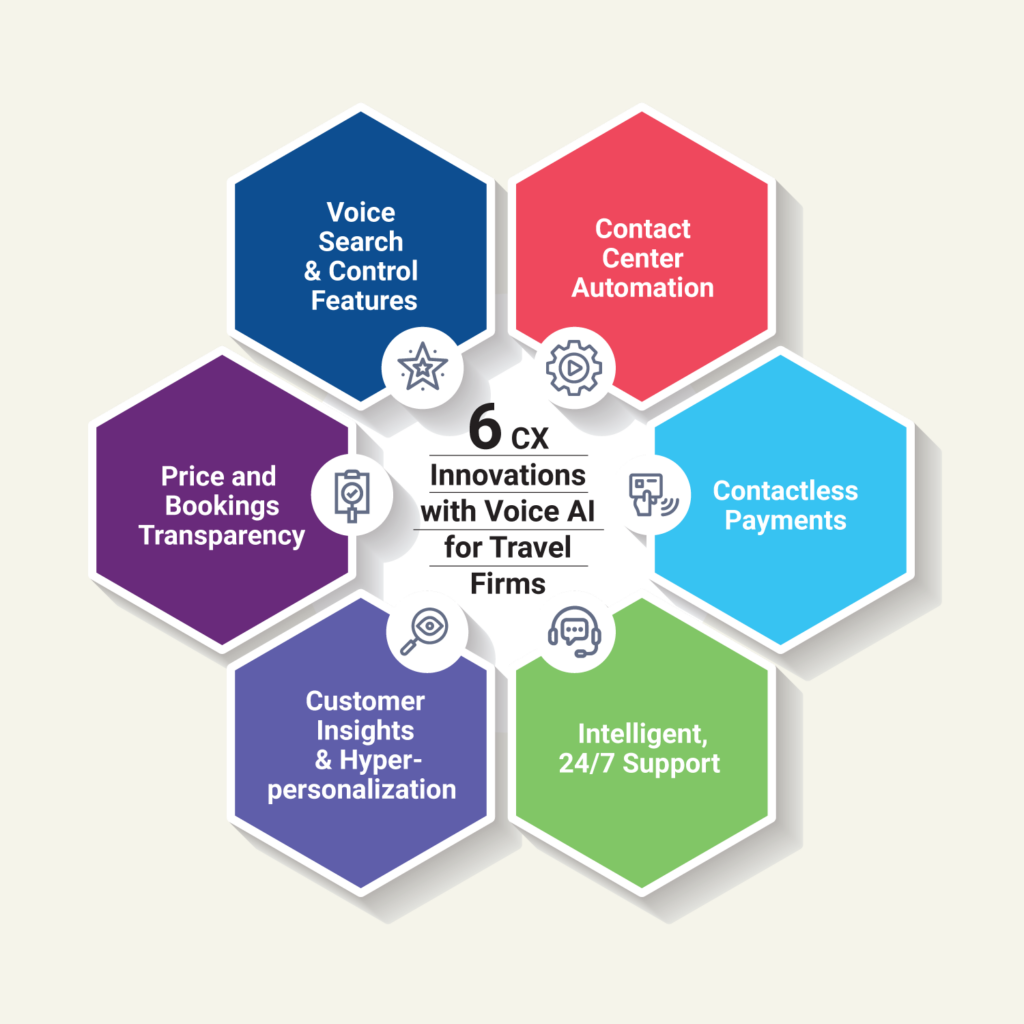 Voice conversations constitute a significant part of the customer's preferred mode of interaction with the brands' customer support teams. It is a critical element in building CX. Any customer service platform without the semantic understanding of the voice interactions and nuances like tone, speed of conversation, and sentiment will not be able to capture the right intent to deliver accordingly. Voice Intelligence platforms built from the ground up and tailored for the travel industry can make sure the conversations are more context-driven and relevant.
Further, the Voice Agents' datasets designed for spoken language understanding can provide service-right options to customers even in the absence of a customer support agent.
Let's dive into innovations in customer service areas for better CX:
Automation is a Strategic Priority
With over two-thirds of companies piloting automation in one or more business units, customer service in travel firms must not be an exception. Automation of repetitive mundane tasks helps avert human errors, costs, and time-consuming zero-value activities.
Voice AI is a perfect tool to help travel companies deliver scalable, cost-effective, and intelligent support. The technology helps contact centers operate with lean teams while extending support capabilities in diverse languages and time zones.
Contactless payments across modalities, and the more convenient the better. Voice AI agents, such as the Digital Voice Agent of one of the leading Voice AI solution providers, Skit.ai, facilitate travelers with an on-call payment option.
Intelligent Support: Customers prefer proactive updates on the changes in regulations or travel plans due to weather scenarios. Providing additional guidance via notifications, automated reminders or even personalized voice calls for precautions or alternatives helps differentiate customer service. Voice AI is the most potent tool for engaging and serving customers.
24/7 Support: Providing round-the-clock assistance and a way to reach key information even when human support agents might not be available for international or domestic travelers is a plus point. AI-enabled Digital Voice Agents can guarantee that. Combining it with effective multilingual support and voice calls in the preferred language make for smoother, worry-free travel experiences.
Customer Intelligence for Hyper-personalized Experiences
Right from evaluating travel options and packages to post-travel feedback, understanding customers' tastes helps deliver truly personalized travel experiences. Leveraging the powerful data capabilities of conversational AI helps keep tabs of travel history, search data, and travel preferences. This offers enough context to gain deep customer intelligence and insights to deliver as per customer expectations and offer top-notch experiences.
Transparency in Pricing and Operations: Customers prefer a clear window into pricing, offers, discounts, cancellations, and other policies. Quite often travelers feel cheated as hidden costs escalate their travel bills. Companies providing a constant feedback loop combing tech-enabled, unambiguous pricing dashboards is integral for building customer trust towards the brand.
Leverage Voice Search & Voice Control
Travelers usually search, book, and organize their plans on mobile devices. By leveraging the ubiquity of mobile phones and the latest features, voice search has replaced conventional typing. Integrating voice search and control features in travel companies' sites can be of great convenience to busy travelers that are looking for information on the go.
Conclusion
Customer expectations have leaped to new levels of sophistication and this change will only be constant. After sampling the superior CX offered on platforms and apps of brands in retail and e-Commerce in the new normal, customers expect to be wowed with endless innovation throughout the journey.
With voice being an instinctive way of communication, it can be a golden avenue for travel companies to reshape customer service and CX, combining the best of Voice AI and human agents for a significant competitive leg-up.
What is travel, if not an experience that must be made memorable! For more information and free consultation, let's connect over a quick call; Book Now!