Debt collection companies have been automating various parts of their operations, much like companies in other industries. However, their core problem – the inability to automate intelligent spoken conversations – has impacted their ability to solve their core challenges.
Connecting with consumers to recover payments is at the core of what a debt collection company does. Conversational Voice AI, with its capability to automate collection calls, solves all significant challenges and ushers in a new era of debt collections.
How is Voice AI changing debt collections forever?
100% Account Penetration: Digital Collection Agents can dial millions of calls within a few days, covering an agency's entire debt portfolio. This has never been possible until now, as over a third of the files an agency has remain untouched.
Less Dependence on Human Agents: It is hard to find a skilled collector, and having a consistent team that can scale up when needed has been extremely challenging. But instant scalability with Digital Collection Agents, the dependence on human collectors goes down substantially. The end-to-end automation of many calls means that human agents are no longer required to do those calls. So a collector can manage a larger portfolio with a smaller or the same team of agents.
Augmenting Agent Productivity: Since Digital Collection Agents can complete voluminous and low-value tasks, the outcomes help human agents optimize the accounts they focus on and the problems they want to solve. This was impossible, as human agents were busy identifying RPC and WPCs, dispute calls, and others.
File Segmentation for Better Recovery: For the first time, collectors can now see the entire picture of their portfolio. They can see the set of Right Part Contacts (RPCs), the propensity to pay, and other vital data. This power of segmentation is helping them optimize their collection strategy and improve collections.
Remarkably Lower Cost Structure: The Digital Collection Agents can dial over 80% cheaper calls while also being scalable. This has never been possible before.
Further Read: Top and Bottom Lines Impact of Skit.ai's Solution for Debt Collection Agencies?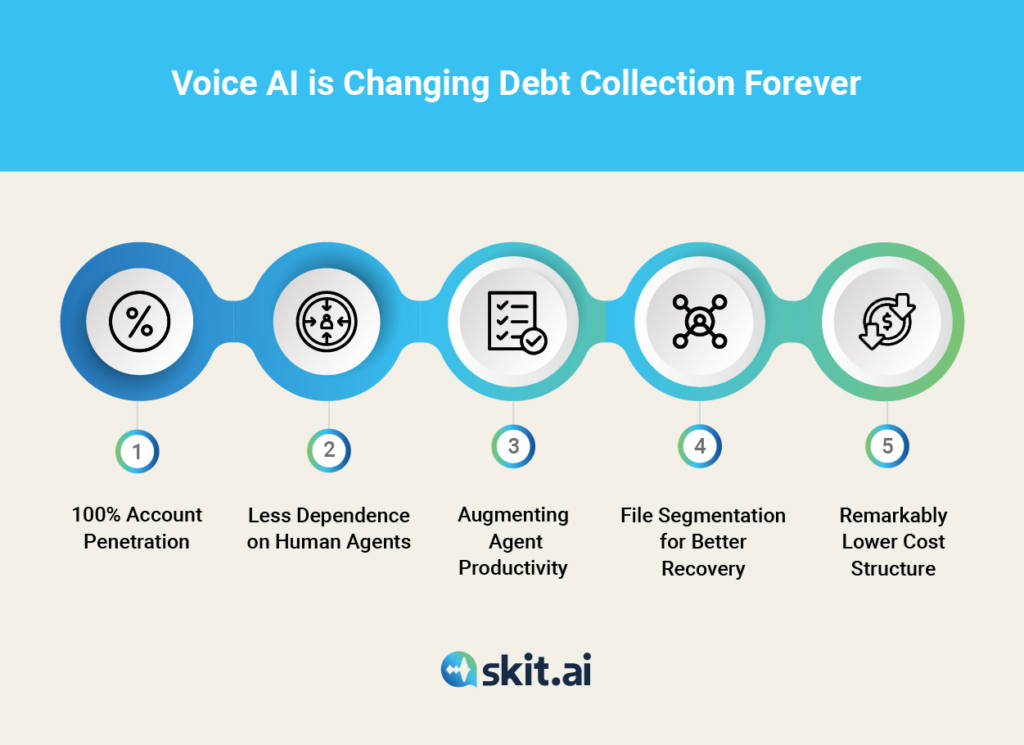 Voice AI comes with other remarkable benefits; here are a few:
Lower Compliance and Legal Risk: In addition to its many benefits, Voice AI also has the potential to improve compliance and reduce the risk of legal issues. Debt collection can be complex and regulated, and collectors must follow strict compliance guidelines. With Voice AI, these guidelines can be built into the technology to ensure that digital collection agents always follow best practices. This can help to reduce the risk of legal issues and protect both the debt collection agency and the customer.
Better Decision-Making with Data Analytics: Voice AI also can analyze customer data and make informed decisions on the best course of action. For example, Voice AI can use data on a customer's payment history, income, and expenses to determine the best payment plan for them. This data-driven approach can lead to more efficient and practical debt resolution outcomes and a better customer experience.
Unprecedented Automation: One of the main benefits of Voice AI in debt collections is that it automates much of the manual work involved in the process. Debt collectors can use Voice AI to automate tasks such as calling customers, sending reminders, and recording customer interactions. This saves time and allows collectors to focus on more complex tasks, such as negotiating payment plans and resolving disputes.
How to choose the best Conversational Voice AI solution provider?
The most important thing to remember about a Voice AI solution is that it either works and satisfies the consumer, leading to positive outcomes and recovery, or it will lead to consumer frustration and significantly adverse outcomes. Hence the choice of vendor is highly vital. Here are a few things to consider:
Proven Track Record: To ensure a successful implementation, working with a Voice AI provider with a proven track record in the industry and who can provide a comprehensive and integrated solution is essential.
Ease of Integration: Another challenge when implementing Voice AI in debt collections is ensuring the technology is integrated with existing systems and processes. The provider's capability to integrate with existing systems is one of the significant factors that must be considered while selecting the Voice AI vendor.
Ease of Deployment: One of the critical challenges in implementing Voice AI in debt collections is ensuring that the technology is user-friendly for debt collectors and customers. Make sure that your vendor's solution is easy to use and deploy.
Speed of Deployment: The solution must be ready. No promise of building a solution in a few months should be considered because no working product is ready. Select a vendor ready to go live with essential inputs from your end.
Positive Business Outcomes: Look at the results they have been about to achieve in the recent past. Match it with the outcomes you want to achieve, and only then will deploying that Voice AI solution be successful.
Make the Right Choice
The technology is remarkable and has proved its worth. The only thing left for debt collectors is the selection of the right Voice AI vendor. Select the right vendor, and it will help you gain a competitive edge and show your tangible positive outcomes in a matter of weeks.
Voice AI technology is about to change debt collections forever; don't miss out!
To learn more about how Voice AI can help support your human resources and scale their collection efforts with call automation, schedule a call with one of our experts or use the chat tool below.