We are at the initial stages of Voice AI's evolution, in an epoch where well-functioning vertical Voice AI solutions will be instrumental in helping companies transform customer support and gain customer loyalty. But to a significant faction of CXOs, the understanding of Voice AI technology, its capabilities, and nuances remain obscure. Our earlier articles have tried to elucidate voice technology and how it can prove instrumental in transforming contact centers. In this article, we further that conversation and move on from discussing the Voice AI 'product' to the 'platform' and why companies looking to automate their contact centers must consider platform capabilities as a factor that will impact their long-term success.
The platform question holds greater gravitas when the top priorities are ROI, time-to-live, control over performance, and market leadership. In this blog, we deep dive into the core questions: what does a Voice AI platform look like, why does having a capable platform matter, and what are its far-reaching implications?
A Deep Dive: Unique Advantages of a Voice-first Voice AI Vendor
Why Having a State-of-the-art Platform Matters
Today, voice technology has advanced sufficiently to deliver intelligent voice conversations. The wait is finally over, and companies can transform their CX with voice-first Augmented Voice Intelligence platforms.
Voice AI is the most significant automation trend of 2022.
Here are a few core considerations that CXOs must deliberate over while evaluating a Voice AI solution:
Intent Accuracy
Speed or Latency
Time-to-Live
First Call Resolution Rates
Integration Capabilities
Data Security, Privacy, and Storage
Know more about KPIs while deciding on a vendor
Even coming to the correct conclusion about a Voice AI vendor capabilities is not easy. But let's assume the product is good, but before signing up, look into the vendor's platform capability. It is the next big and most important task because, in the long run, the performance will depend mainly on the platform's capabilities.
Explore More: The Ultimate Voice AI Vendor Selection Guide
Before we go deep into the topic, let us, distinguish a product from a platform.
A product is essentially an application that solves a specific use case.
The Platform is the underlying structure that provides the core building blocks and the infrastructure for the functioning of one or many products.
In other words, a platform is an enabling environment over which many products run. The architecture of a chat-first voice-capable platform will be very different from that of a voice-first platform because the latter is built and optimized for voice, giving it a distinct performance edge. Here is a glimpse of a purpose-built Augmented Voice Intelligence Platform:
The Platform View of a Vertical Voice AI Company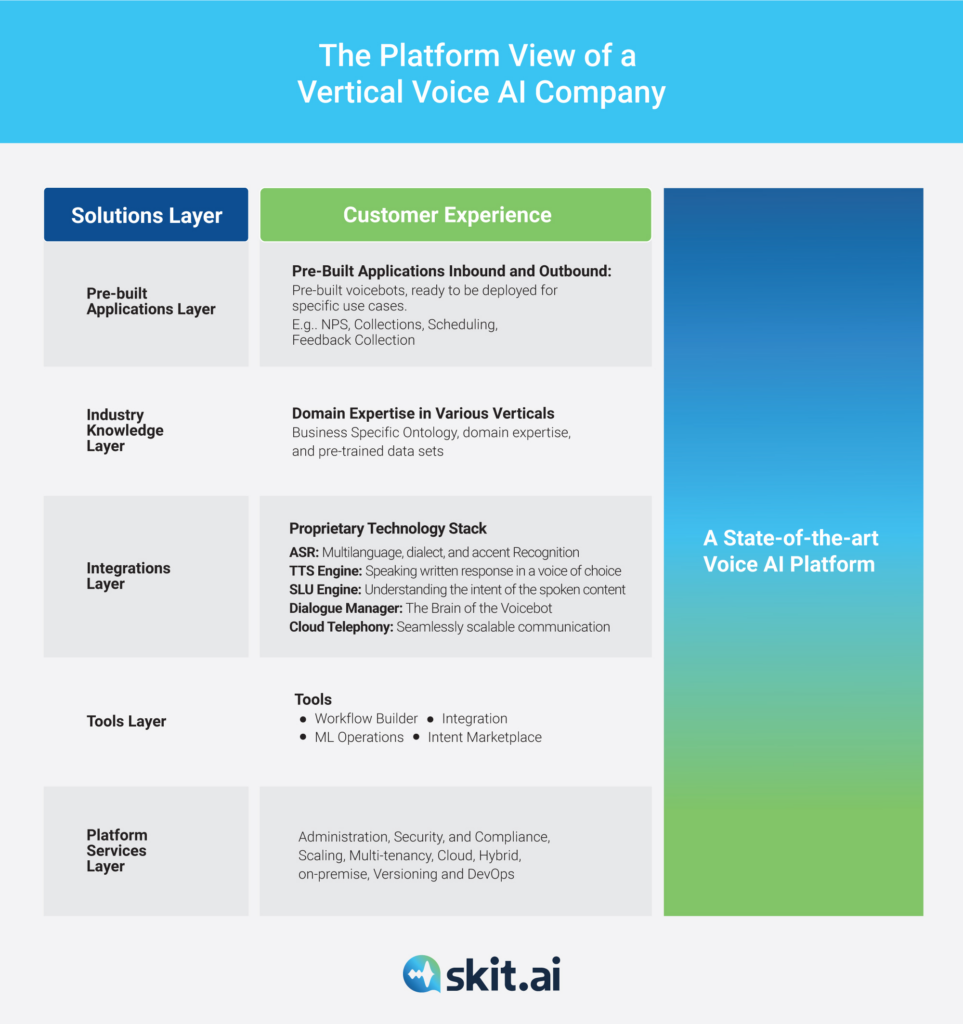 From the above diagram one thing comes out clearly: that for smooth functioning of a Voice AI solution, its various constituent parts must work in perfect synchronicity. Hence, beyond the product, i.e., the voicebot, various other platform features are needed for an ideal Voice AI solution.
Let's deep dive to answer the questions: why should companies look for platform capabilities in their potential Voice AI vendor?
At the core of this issue is the increasing realization that voice as a medium of customer support will see an irreversible rise in the coming years, led by Voice AI technology. In the long run, any company that wants a firm hold on its market share or leadership must look into the Platform capability of its Voice AI vendor to enhance the probability of sustainable success and competitive advantage. Here are the five core advantages of a robust Voice AI platform: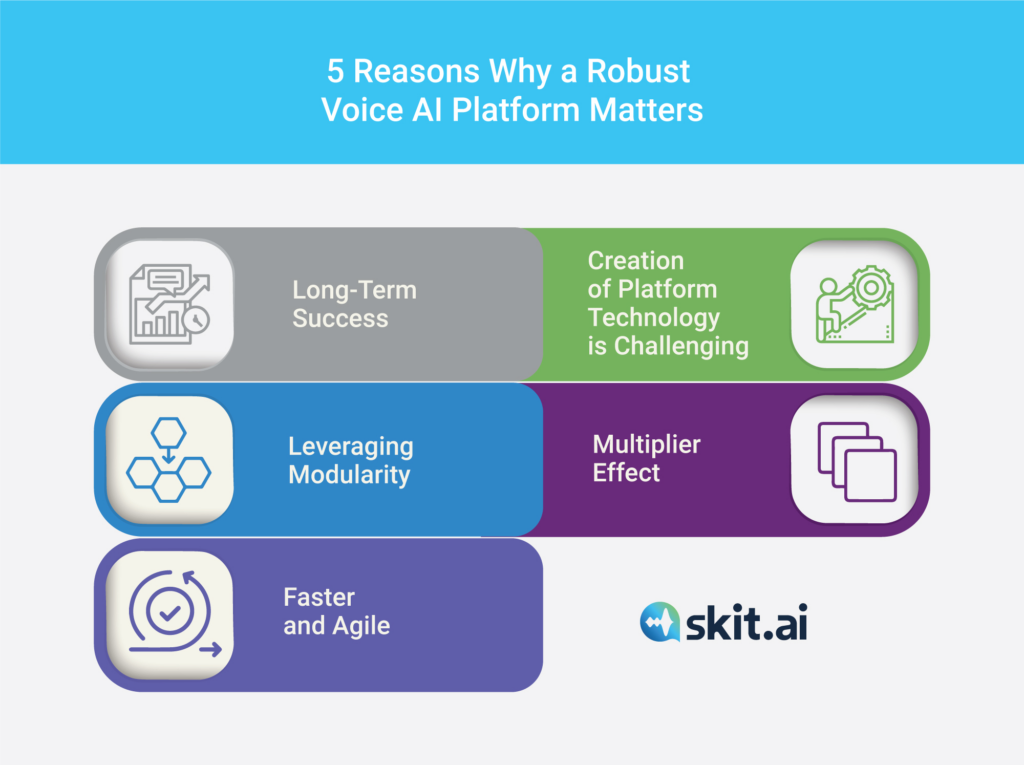 Long-Term Success: The performance, strength, and sophistication of the Platform, not the product, determines the success of the company in the long run. Choosing the right Platform will help contact centers mitigate the risk of changing the vendor and starting from scratch mid-course.
Replicating Platform Technology is Challenging: Platforms can not be built overnight. Creating a state-of-the-art platform technology takes vision, resources, capability, and time. Over time the benefits multiply due to network effect and learning curve advantages associated with AI models. This initial advantage creates a remarkable difference as years add on.
Leveraging Modularity: A robust platform always aces modularity as it provides diverse and latest technology options for contact centers to create their solution the way they want. It allows for ease and diversity of integrations. This gives the company flexibility in cherrypicking integrations.
Multiplier Effect: In the extended run, contact centers, Voice AI providers, and other application providers benefit from a robust platform as it harnesses the multiplier effect by leveraging the presence of dozens, hundreds, or even thousands of third-party vendors. So, any company using the platform to deploy a voicebot will have not only a multitude of choices, but they will also benefit from the innovation they bring in, as it can be easily incorporated into their voicebot.
Faster and Agile: A strong Voice AI platform will make it easy for companies to create and upgrade their voicebots. Reduction in time-to-go-live and ease of creating, maintaining, and enhancing the voicebot makes it easy to change and maximize its effectiveness.
Here are some of the capabilities of an evolving Voice AI platform:
A Unified View: It should give a unified view of the entire voicebot, from stats on conversational design to integration to ASR.
Voicebot Creation: It must allow companies to create conversational flows and test and deploy them with minimal help from the Voice AI vendor.
Collaboration: It must allow the users to collaborate and comment at any point of voicebot creation.
Enhancements and Testing: Changes in policy, customer preferences, or offers must reflect changes in conversational design. The users must be able to easily do these upgrades and modifications and test them before deployment.
Campaign Management: The effectiveness of the voicebot depends on the capability of the user to run campaigns with complete control. It must allow them to upload data, run campaigns, and modify them real-time.
A Wide Range of Tools and Integrations: Creating a voicebot with autonomy requires giving a choice of a wide range of tools. A robust platform would provide that to its users along with a great variety of integrations.
A Voice AI vendor can have a great product and a short time to market. But if it is missing a great platform, then, in the long run, its clients will lose their competitive advantages. A CXO can indirectly identify the signs of a weak platform. Here are a few major red flags of a weak platform: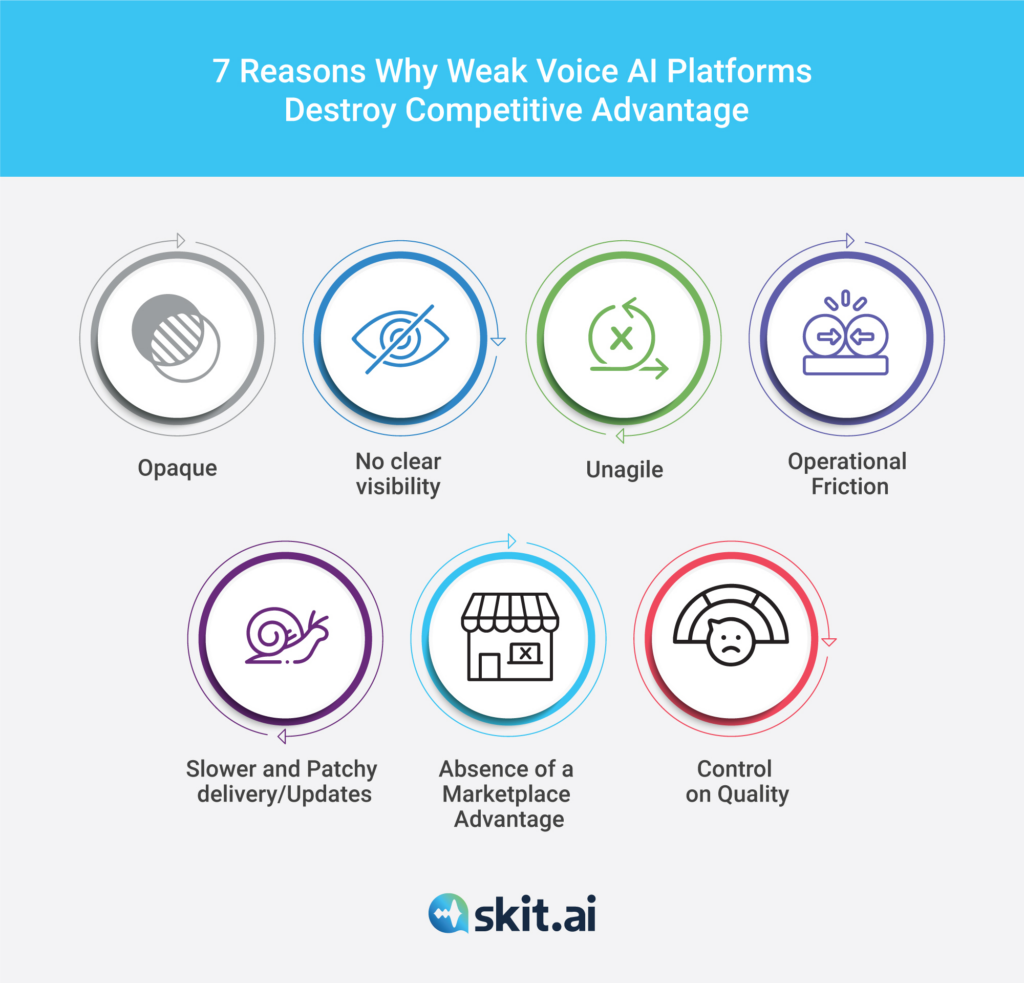 Opaque: The creation of the voicebot will be opaque to the contact center.
No Clear Visibility: The elementary constitution of the voicebot and its functioning will have no visibility.
Lack of Agility: For every minor tweak, the user must catch hold of the engineering team to code and execute the change. This is a waste of time, resources, and money.
Operational Friction: Constant and copious communication between the user and the Voice AI vendor will decelerate the pace of implementation of changes.
Slower and Patchy Delivery/Updates: Delays in deployment, updates, and upgrades
Absence of a Marketplace Advantage: A robust platform grows rapidly, and with its growth comes the network effect, i.e. the presence of third-party solutions that can augment performance in many dimensions.
Lack of Control on Quality: Giving absolute control over the creation and deployment of the voicebot helps the users engage more deeply with their voicebot and mold it with their vision. The outcomes are much better and are sustained for a longer period.
Some great ways to identify these telltale signs is to engage in a free-of-cost pilot or to ask relevant questions during detailed demos.
The essential thing is, a Voice AI vendor must possess a great product that can converse intelligently with consumers or callers. Additionally, this product must be facilitated by a robust underlying platform that enhances its capabilities, adding to the overall experience of creating, deploying, and improving the voicebot.
To learn more about Voice AI solution and what it can do for a contact center, book a consultation now: www.skit.ai