Vaccine equity reopened the global tourism gates in 2021, reigniting the wanderlust of travelers, many of whom were keen on holidaying internationally.
Picture this; customer support of leading travel bookings and tourism companies began clocking over thousands of pre-booking queries and inbound calls. In addition to the chats, emails, and other contact touchpoints. The two possible ways to rise to the occasion—scale up contact center support or explore 'novel automation areas' beyond the scope of IVRs and Chatbots to help agents answer customers' questions.
Travelers in the digital age prefer pre-booking research and planning over spontaneity. Even more so, customers simply desire to talk to voice support on the other side of the line, a study confirms.
While IVRs and Chatbots are excellent for very simplistic FAQs, tickets, and status handling, they need to catch up in meeting the expectations of potential travelers with generic discovery queries that can only be addressed effectively via voice conversations with contact center agents.
However, managing the entire inbound query process over calls is an overpromise that most contact centers can only live up to by draining their agent resources, time, and cost.
From the potential customer's standpoint, booking during peak seasons, poor agent bandwidth, and long waits at the IVR loop can be frustrating. This ultimately leads to under-delivery of the promise of consistent and quality customer experience (CX), causing poor conversion and mid-call abandonment.
How AI-powered Contact Center Automation is Ideal for Travel Companies
Travel and tourism brands must factor in CX while offering a seamless flow of information on airfares, accommodations, destinations, booking and refund policies, travel safety, and guidelines over inbound voice calls. AI-powered voice automation helps intercept repetitive queries, taking away the lion's share of the burden from the agents. This way, it augments contact center support teams to meticulously manage time and resources for solving complex customer queries while staying on top of their SLAs. Additionally, travel booking companies can leverage automation to offer more information over voice calls in their inbound support.
Voice AI, built on powerful AI and Spoken Language Understanding (SLU) algorithms, can guarantee this two-fold benefit for travel and tourism platforms looking to unlock new automation angles in inbound customer support for an impactful CX. In this blog, we will explore the journey of Southeast Asia's leading hotel bookings and management platform with Voice AI for transforming their inbound CX through seamless voice conversations.
Explore how Voice AI Empowers Contact Center Agents
Automating Inbound Customer Support Call with Voice AI
Before adopting Voice AI, the hotel bookings company had an IVR system that was able to confirm only those customers with booking IDs before connecting them to the agents. The bots could not handle customers looking to fetch pre-booking and pricing details. Due to poor agent bandwidth, the company's customer support hit its lowest point whenever the call volumes peaked, recording below-par FCR, call containment, and call abandonment rates.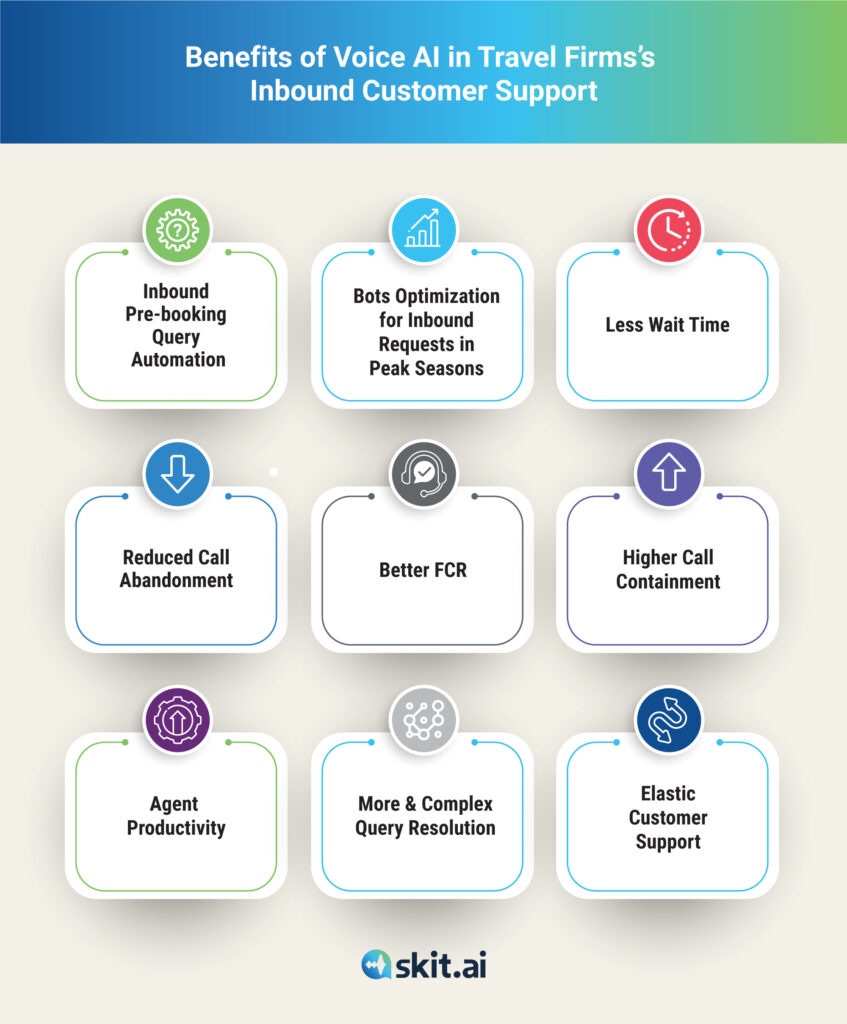 After evaluating market-leading platforms, the travel bookings company chose Voice AI and predefined objectives to empower its customer support team to work across customer intents previously handled by bots. The platform's powerful AI capabilities helped dive deeper and crystalize goals such as:
Automating inbound customer calls with simpler intents, like inquiries about booking status, to improve call containment rates.
Implement a solution that will allow the team to handle seasonal surges without hiring more agents.
Give customers a seamless experience that would reduce wait times and the likelihood of call abandonment.
Handle more query types, even involving customers without an active booking ID.
Discover How Voice AI Transforms Contact Center Automation
Reaching Customers Faster at Less Cost and Agent Workload
The transformation began with inbound query areas like reservation status inquiries, booking cancellation and modification information, account information, and policies. After Voice AI deployment, the travel bookings company also identified critical areas that can be managed by their bots; new booking, refund status, pricing inquiry, and location details. This made their bots proactive and prescriptive and seamlessly scaled up the query volumes within two weeks of going live!
In the second phase of implementing Voice AI, the call containment rates gradually increased by 75%, opening new avenues in customer self-service. This meant more inbound callers could get their answers faster without impacting the agent productivity and call center costs!
Voice Automation helped the company to save nearly $200,000 on the annual staffing and recruitment budget. They improved HR efficiency and adopted more competent staffing without the additional costs of recruiting agents just for managing calls during peak seasons for the following year.
Role of Voice AI for Insurance: Streamline Inbound Support
Voice-led Customer Support for Seamless Elasticity and Higher CX
Delivering elastic customer support is another driver for CX for digital brands and businesses. In the travel and tourism industry, especially during peak seasons when the customers are in the pre-booking phase, the bookings platforms and contact centers must be agile to keep up with their changing preferences and low attention spans. Elastic customer support means the platforms and their contact centers are scalable, and the customers do not face poor user experience from frozen applications or busy contact center lines.
To capitalize on the pre-booking queries that are not tied to booking IDs, the hotel bookings firm uncovered new automation angles within customer service and expanded customer support areas with Voice AI. This gave them the agility and flexibility to resolve over a hundred calls, of which the bots handled the majority. In turn, this increased agent productivity, allowing them to focus on answering questions over calls and improving customer loyalty and retention at the pre-booking stage. Local languages integration to the IVR was the additional enhancement using Voice AI that drove the platform's net promoter score (NPS) up by 71% and reduced call abandonment rates by 54%.
Our Takeaway:
In today's pure-play tech world, automating inbound customer support is vital for the judicious disbursement of pre-sales/booking activities. As customer expectations increase, the opportunities for automation are endless. However, travel and tourism firms must create a realistic roadmap and flow route on their platforms for better customer experience and engagement across the entire booking value chain. With AI at work, brands can unleash automation in the right places to drive 'conversion through conversations' even with a lean team.
Voice Intelligent platforms, like Voice AI, help join forces critical to customer support, allowing an absolute human and machine partnership.
Are you interested in contact center automation to chart unique customer experiences with our Digital Voice Agent? Use the chat tool to schedule a call with one of our experts.