After enduring the pandemic lull, semiconductor shortage, and the rising cost of raw materials, India is again a hot market for consumer appliances and electronics. 
In 2021 the Indian consumer durables industry stood at $9.84 billion and is likely to reach $21.18 billion by 2025. This double-digit market growth is driven by the brands' omnichannel reach and a massive shift in consumers' thought process—from price consciousness to a preference for technologically advanced, premium products that promise higher quality, safety, and value.  While this is great news in terms of sales and profitability, it signifies the end of mass marketing and traditional customer engagement strategies.
Today's consumer wants to feel special and expects a meaningful connection with the brands. Customer experience (CX) is important for long-term customer relationships and sustained value-creation.
The State of CX in the Consumer Durables Industry 
Unlike other industries, sales is the starting point for brand-customer relationship in the consumer durables business. Since today's customers expect more, brands are bombarded with countless opportunities on the digital front to offer and improve their post-sales, product, and user-oriented services; understand audience demographics, product usage, and collect feedback. To navigate the challenge of delivering modern CX with the conviction to delight customers, the worldwide spending by companies on CX technologies is expected to touch $654 billion this year. 
To make investments worthwhile and master the art of customer centricity in the consumer durables industry, let's first understand the common barriers to great CX:
Too Many Touch Points: Many brands these days have multiple touch points (online and offline forums) for customer interactions. This means too many, complex customer journeys where data remains fragmented and departments operating in silos are unable to collate customer insights and behaviors to analyze and personalize experiences. 
Customers' Propensity towards Brands with Solid Digital Presence: Millennials and Gen Z consumers prefer brands with a strong online presence like social media, website UX, pricing, and product information and reviews before making purchases. These consumers relate brands' digital savviness as an important factor for building trust and establishing personal connections. This expectation creates a myriad of variables for consumer durables brands to consider while providing consistent CX across the journey including post-sales support. 
Shifting Loyalties and Micro-moments: Consumer electronics and appliance companies suffer from poor customer loyalty due to countless competitors, promising similar products at better rates and features. McKinsey's study found the average loyalty scores are below 20 percent in the consumer durables industry. 
Besides, brands are not evolved enough to leverage 'micro moments' or the few seconds when a customer online browses with the intent of buying a product or service. It takes cutting-edge expertise to encash on a limited window of opportunity to identify a potential customer, and provide them with the right information, at the right time, and right medium! 
The advent of Circular Economy and Sustainability: The consumer appliances and electronic industry have globally turned towards sustainability, driving their brands and manufacturers to practice circular economy models like recycling and reuse to avoid wastage. Customers these days are also more informed and favor brands that uphold their sustainability promises. 
This could be a Catch-22 situation for consumer durable companies as on one hand, their customer service will be flooded with queries and inbound calls regarding the maintenance, repairs, and responsible end-of-life actions for products that cannot be addressed by generic IVRs or FAQs. On the other hand, there is a lack of evidence-based data on mapping and driving customer experience which is crucial to the adoption of circular practices.
Delayed Product Servicing: Conventionally, the product repairs and servicing processes take up to days. Reaching contact centers for customer support, scheduling service and maintenance requests, follow-up and actual physical repairs involve a lot of waiting and frustrations. Sometimes, brands outsource repairs to third-party service providers which can further impact customers' brand perceptions and experience. 
Explore how to Transform CX with Voice Automation 
The Rise of Voice AI in Customer Support
Top-performing brands can build long-lasting customer relationships by leveraging bespoke technologies like artificial intelligence (AI) and machine learning (ML) which have a demonstrable impact on areas like product design, marketing, sales, and customer service. When it comes to elevating CX, consumer durables companies must seize the moment by automating customer service and augmenting their contact centers with AI-powered, industry-specific platforms. Voice-first technology solutions like Voice AI help reshift the gears of customer service in the consumer durables industry.
Users of consumer durable products approach contact centers for a slew of reasons and prefer voice interactions with human agents over texts and IVRs. Besides, voice is the most instinctive and easy form of communication. Voice AI helps tap into customers' voice conversations to improve contact center performance and guarantee personalization.
Customer support platforms built for typing and texts would be insufficient to articulate customers' urgency, queries, complaints, and issues. Voice AI platform is built, designed, and optimized for voice conversations at scale for prompt query resolution and better personalization to callers. 
Explore how Voice AI can help you transform Travel and Tourism Companies 
The Digital Voice Agents automate multimodal interactions and take over cognitively repetitive tasks so that human agents can vest attention to addressing complex customer problems. 
9 Benefits of Voice AI for Contact Centers in the Consumer Durables Industry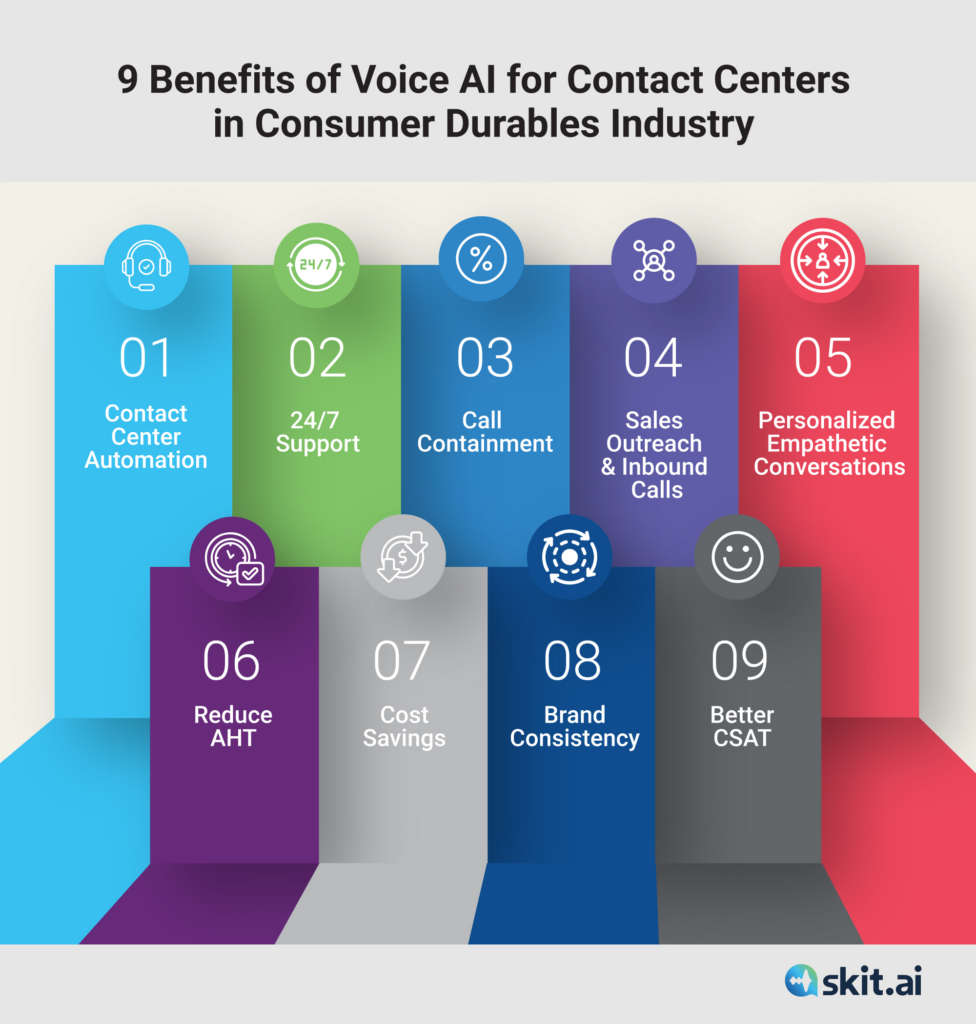 Automation of Contact Center Operations: The Digital Voice Agent answers tier-1 calls, without the need for a human agent.  The tech stack in Voice AI can enable conversations that are modeled on human interaction. Every time when a Voice AI agent calls customers, it can be optimized to answer all basic questions and handle tier-1 queries. Besides, it can automate repetitive, zero-value tasks like call scheduling, reminders, post-service feedback, and more. 
Round the Clock Support: Traditional 9-5 functioning contact centers don't fit well with today's customers' lifestyles and schedules. Digital Agents are meant to provide 24/7 support and manage customer calls through the unavailability of human agents beyond business hours.  
Call Containment:  Automate calls and improve your self-service function as well as answer tier-I questions without the need of a human agent. The higher the contained calls, the higher the cost savings. 
Scale Up Sales Outreach and Inbound Calls: Voice AI helps take over high-volume tasks that are performed by human agents at less cost and in shorter timelines. The automation helps consumer durables brands cover millions of customers for sales outreach in a matter of few days using fewer agents. Additionally, the platform's Speech Recognition algorithms and data help autonomously attend to inbound queries, understand customer pain points, and help them feel connected to the brand. 
Personalized Empathetic Conversations: Voice AI's tech stack allows contact centers to tailor conversations and responses in multiple languages. The semantic understanding of the spoken words, tone of voice, speed, and emotions help capture the intent of the customers to proactively respond with relevant options. Also, Voice AI's intelligent and instant troubleshooting options for service requests reduce wait time when customers are on hold. 
Reduced AHT: The agents' tasks can be augmented by Digital Voice Agents that seamlessly plug into contact centers to solve queries with relevant insights and automated options like reminders, notifications, and call authentication, reducing average handling time (AHT) by 30 to 40 percent. This helps agents balance work and avoid burnout during inbound call surges.
Cost Savings:  Contact centers of consumer durables brands can incur operational cost savings up to 35 percent with Voice AI by avoiding additional expenditure for infrastructure upgrades and maintenance and staff training and recruitment. The platform saves resources and time by executing outbound campaigns at scale and accuracy.
Brand Consistency: Brands with a hyperlocal and global presence can streamline contact center operations and standardize their interactions based on their needs. They can customize the Digital Voice Agent to proffer consistent customer experience and service quality. 
CSAT Levels: Brands can tap into the new era of self-service experience and guarantee constant engagement with reminders and notifications. By powering voice-centric interactions that customers cherish and largely resonate with, Voice AI helps consumer durables' contact centers achieve customer loyalty and satisfaction scores of 4.0+. 
Digital Voice Agents – their Functioning and Benefits 
The Road Ahead 
Expert evidence points that we are in the 'platinum era of CX' and headed to a future of more emotionally and personally immersive CX. 
After braving a tumultuous ride of economic slowdown and digital acceleration, the global consumer durables industry is at an inflection point.  This is where technology and thought leadership come together to acknowledge the 'voice' of today's customers through Voice AI.
For more information and free consultation, let's connect over a quick call, use the chat tool below to schedule an appointment with one of our experts.