You've been exploring Voice AI as a possible solution to automate your debt collection agency's operations; you're considering adopting an Augmented Voice Intelligence solution to scale outbound and inbound calls for collections. Congratulations—you're in the right place.
A Voice AI solution can significantly reduce your collection costs and improve the success rate and duration of your collection campaigns. However, not all Voice AI vendors are the same. How do you choose the right vendor for your agency?
Given our extensive experience with the collections space and our tech expertise, we've put together a list of topics to consider when meeting with providers and choosing the best one to move forward with, from the understanding of business operations to technical capabilities.
If you can't count on your Voice AI vendor to fully understand the collections space, you will end up being significantly more involved with every step of the process, which will ultimately take longer, cost you more money, and lead to a disappointing return on investment.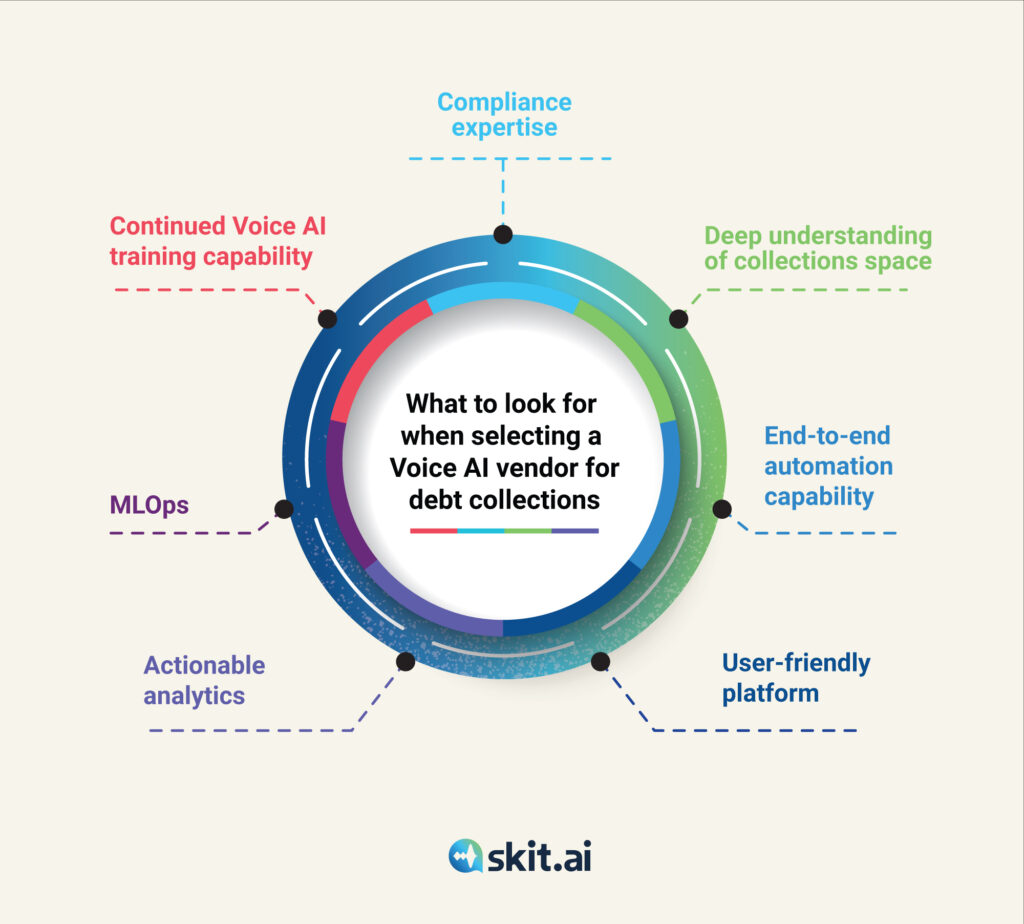 Compliance with Debt Collection Regulations
The very first thing to look for in a Voice AI solution that handles outbound collection calls is the company's level of understanding of the existing laws and regulations related to collections in the U.S.
A well-trained Digital Voice Agent can comply with the regulations with a consistency and precision that can be hardly achieved by human agents. However, it's crucial to check whether the provider is up to date with the current laws.
The main collections-related regulations in place in the United States are:
Fair Debt Collection Practices Act and Reg F: The FDCPA, most recently updated with Regulation F in 2021, is the most comprehensive U.S. law that restricts, for example, call frequency and calling hours, and mandates the reading of the "Mini-Miranda."

Telephone Consumer Protection Act: The TCPA ensures that numbers in the Do Not Call registry are never contacted; this can be easily achieved with Voice AI.

Federal Fair Credit Reporting Act: The FCRA protects information collected by consumer reporting agencies.

Payment Card Industry Compliance: PCI regulations ensure that the Voice AI provider takes the appropriate measures to protect stored cardholder data and encrypt the transmission of the data.

Health Insurance Portability and Accountability Act: HIPAA is one of the most well-known privacy laws in the United States.
Read more about meeting debt collection compliance with Voice AI in our blog post.
Provider's Understanding of the Collections Space
This point goes beyond regulations: How well does the Voice AI provider know and understand the collections space as a whole? Their understanding of the structure and overall operations of a collection agency is likely going to be a helpful factor in the collaboration between the agency and the provider.
The provider should be able to understand the agency's structure, the challenges related to employee retention and call scalability, as well as best practices for outbound collection calls. This way, you can trust that they will design an optimal conversation flow to facilitate your collection efforts.
Different factors will affect the conversation design. For example:
Nature of debt: There are different types of debt, including credit card, healthcare, student, etc.
Age of debt: A 30-day past due debt is very different from a 180-day past due debt.
Ability to Handle End-to-End Conversations
A Digital Voice Agent needs to be able to handle outbound collection calls from start to finish, without any human intervention—from verifying the user's identity to completing the transaction.
The Digital Voice Agent will therefore initiate the call, remind the user of the due payment, register the reason of delay, persuade the user to pay right away, collect the payment or offer alternative payment plans, and ultimately feed the data it has gathered during the call to the CRM tool.
The capabilities of the solution should include:
Payment collection on call
Dispute handling
Digital validation
and more
Access to User-Friendly Platform
One important question to ask providers is: What kind of access will the collections agency have over the Voice AI?
The ideal provider will offer access to a dedicated and user-friendly platform, from which the agency will be able to view and tweak conversation flows.
Additionally, having a good platform will also help with the integration of third-party applications, such as payment gateways, CRM, and other business applications.
Want to learn more about how the technology behind a Digital Voice Agent works? Check out our dedicated blog post.
Actionable Analytics
Once the Voice AI solution goes live, will you be able to easily visualize and analyze its performance and results?
As more and more users speak with the Digital Voice Agent, you gather precious data that you don't want to waste. Your Voice AI vendor should give you access to a dashboard to monitor the effectiveness and quality of the conversations.
MLOps (Machine Learning Operations)
At the very core of Voice AI lies the capability of the algorithms to continuously learn and improve as more conversations take place.
MLOps stands for Machine Learning Operations and it's somewhat similar to DevOps. It's an organizational model and culture designed to help the involved teams manage the operational processes behind machine learning.
AI companies that have a good MLOps system in place are likely to develop a better technology set to improve with time.
After Go-Live: Continued Voice AI Training
Your Digital Voice Agents are ready to go live and start calling your customers to remind them of their due payments. What now?
After the Voice AI platform goes live, the work is far from finished. The Digital Agents must be maintained for further optimization of the technology and the conversational experience, also to ensure they understand out-of-scope intents. The solution must also be monitored, especially at the beginning, for quality assurance purposes.
According to a recent Gartner report, failing to monitor automation tools in post-production is one of the most common mistakes companies make when implementing automation.
Additionally, it's important to note that Voice AI solutions are typically rolled out in multiple phases: with time, additional capabilities and use cases may be added.
Therefore, your agency will want to work with a Voice AI provider with a clear plan for post go-live training and handling.
In conclusion, watch out for these key questions to ask your Voice AI vendor.
For more information and a free demo, you can schedule a call with one of our collections experts. We'll be happy to help!