Voice AI is becoming mainstream in the ARM industry, and the days of chasing after customers for unrecovered debts in the most haphazard, manual fashion are nearly over. Additionally, thanks to the rising popularity of self-service channels and the ecosystem-led push involving regulatory changes like the Reg F that rewrite the expectations for debt recovery in the U.S. beyond simple automation.
Voice AI conveniently fits the bill for debt collection agencies by fixing the systemized inefficiencies with automation and analytics-driven voice communication outreach. In this article, we will explore why human-like voice interactions handled by AI-powered Digital Voice Agents help debt collection companies drive effective consumer interactions at better collection cost, performance, and efficiency ratio.
7 Ways Voice AI Helps Elevate Debt Collectors' Productivity
At Skit.ai, we call it Augmented Voice Intelligence — the idea that Voice AI can augment, rather than substitute, the work of live agents and collectors. Let's dive into the benefits of this strategy:
Human-like Conversations: Voice AI is purpose-built and modeled on human conversations. Digital Voice Agents can hold thousands of outbound customer outreach calls simultaneously, without the involvement of human collectors, helping collection agencies carry out human-like interactions at lesser cost and effort from their human resources.
Seamless Integrations: Voice AI's integration features feed data from collection calls, such as right-party contact, call-back requests, no response, and more, into the collection management system to provide actionable insights for human collectors to be more proactive.
Higher Portfolio Coverage: Collection agencies can leverage Digital Voice Agents to scale collection outreach calls for different consumer accounts and across diverse portfolios with unique requests for payment alternatives, call-back options, or preferred time of contact.
Versatile and Accurate: Intelligent voice bots can be tailored according to the use case, offer profound insights for analytics on future actions, independently schedule automated triggers, auto call-back on request, and even make intelligent call transfers to human agents/live collectors for complex issues.
Better Compliance and Privacy: Voice AI's algorithms can be trained to follow regulatory protocols on reaching customers, communication time, frequency or calls, and honoring their requests for discontinuing communication using APIs. It can be challenging to adhere to all the norms when done manually. Also, Voice AI's strong encryption and consumers' or cardholders' data protection features comply with regulatory standards like HIPAA, PCI, FCRA, and more.
Lower Litigation: Voice AI lowers litigation risks compared to human agents, who are more likely to coerce consumers to pay with the hope of meeting targets and receiving higher commissions. Additionally, consumers are generally passive toward Voice AI and pin fewer expectations on the technology to understand their emotions or personal grief, reducing the odds of agencies ending up with lawsuits.
Better Insights and Analysis: Debt collection agencies can draw on the insights gathered by Digital Voice Agents to learn about consumers' or callers' experiences and conversations to design or augment debt collection processes for better collection campaigns, collectors' experiences, and higher recovery rates.
How AI-powered Digital Collectors Can Outperform Live Collectors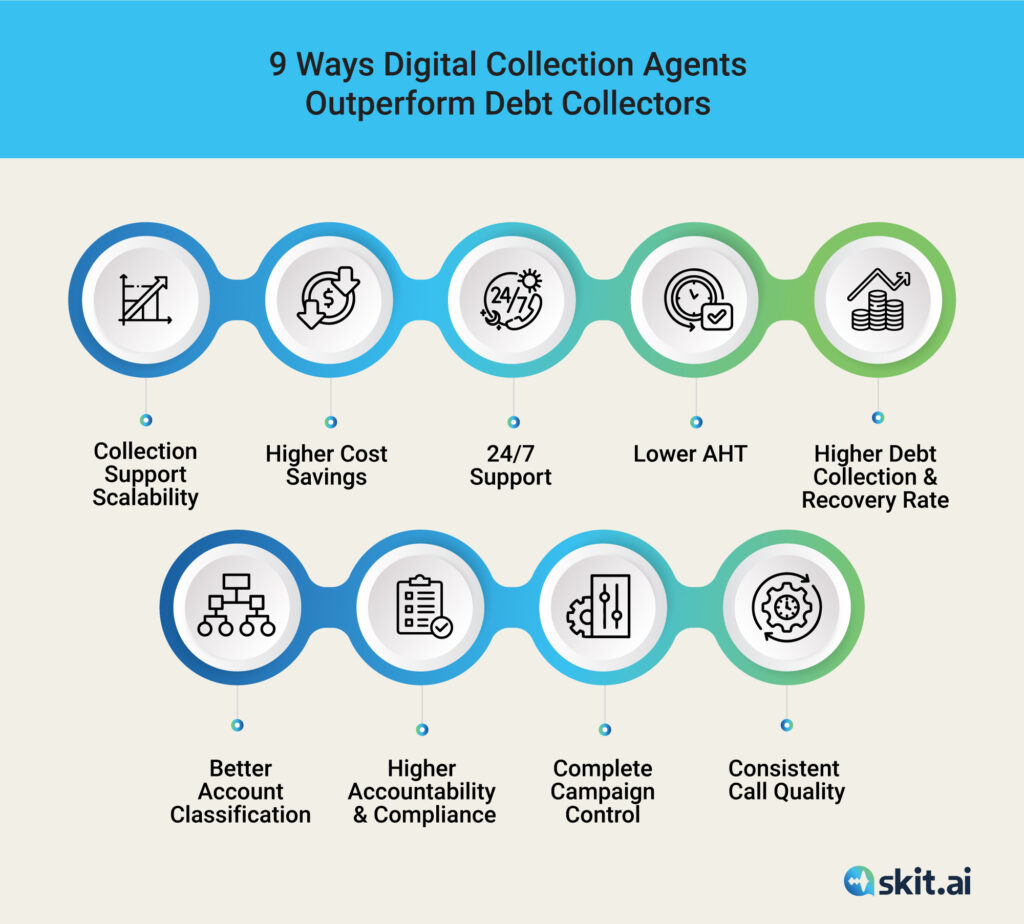 While Voice AI embodies the promise of automation with a human touch, collection agencies don't rely on anecdotal evidence. They look for value-creation and tenacity to transform traditional loan recovery practices with the technologies to a level that human resources alone cannot match. Skit.ai firmly believes in realizing the potential of voice communication in debt recovery by augmenting human support with AI for intelligent human-machine collaboration.
Here are the key differentiating features of Voice AI that match collection requirements and make processes more efficient in responding to various outbound debt collection use cases.
Collection Support Scalability: Voice AI can automate up to 70% of calls, helping curb hiring, recruitment, and training-related requirements in collection agencies. Additionally, Digital Voice Agents help leverage unlimited scalability by simultaneously handling multiple collection calls, which would otherwise be very time consuming and expensive when done manually.
Higher Cost Savings: Voice AI processes non-revenue generating calls at 1/5th of the cost of manual calls. Also, they are capable of decreasing operational costs by 50%.
24/7 Support: Digital Collectors can always be at the beck and call of consumers to offer 24/7 support. Delivering 24/7 support with human resources would be extremely costly and unrealistic.
Lower AHT: Voice AI guarantees better performance and can handle multi-turn conversations with prompt query resolution. It reduces average call handling time (AHT) by 40% and augments human agent teams' efforts by transferring only complex queries and equipping them with real-time analytics and insights.
Higher Debt Collection and Recovery Rate: Skit.ai's Digital Collectors have repeatedly demonstrated performance at par with average debt collectors while operating at less than 1/5th the cost of a human agent.
Better Account Classification: Unlike manual debt collection efforts, Voice AI's ML classification models algorithms are trained to segregate consumers as per bankruptcy details, creditworthiness, outstanding loan amounts, blocked accounts, and do-not-call lists, to help collectors or accounts receivable managers respond appropriately.
Higher Accountability and Compliance: Digital Voice Agents are trained to comply with strict practices in debt collections (7/7/7 rule, TCPA, Mini-Miranda, etc.) and refrain from the usage of unsavory language or behavior that can later result in lawsuits to the agency, which would be challenging to regulate in manual collection use cases. Besides the analytics-driven insights on consumer responses and history, Digital Voice Agents guarantee higher accountability.
Complete Campaign Control: Digital Collectors can be turned on or off as per use case to match the call volume requirement or type of consumers' requests and accounts, unlike calls by live collectors with efficiency issues and too much time, resources, and training.
Consistent Call Quality: Voice AI delivers consistent experiences at any scale and volume. It is humanly impossible to ensure the call experience remains the same and guarantees similar outcomes for all debtors' conversations from manual collection campaigns.
The Bottom Line: Voice AI  is the Key to Supercharge Debt Collections 
It is time to embrace the reality that neither automation nor pure human intelligence can help debt collection agencies to master complex collection campaigns. Skit.ai's Augmented Voice Intelligence platforms like Skit.ai enable the collaboration between humans and AI-powered machines to respond to the mounting operational stresses in debt collection agencies. These solutions empower live collectors to perform consistently throughout the debt collection process at a better cost, productivity, and recovery rate.
---
To learn more about how Voice AI can help reimagine debt collection efforts with call automation, schedule a call with one of our experts or use the chat tool below.