The Ongoing Boom in Voice-led Technologies Across the Globe
Voice has always been the preferred means of communication for human beings. That's why a shift toward voice-based technologies is making its way across generations and geographies, in particular when it comes to contact center automation trends.
In 2022, there were an estimated 123.5 million people using voice assistants such as Siri and Alexa in the United States. A survey conducted by Statista in early 2021 showed that nearly one in three (32%) U.S. consumers own a smart speaker. Consumers are using voice features for online searches, shopping, dictation, and more.
This phenomenon is noticeable across the globe. In India, for example, the number of people using voice queries on Google on a daily basis is nearly twice the global average. With higher consumer adoption of voice-led searches, the incorporation of voice technologies in CX strategies is now a business imperative.
A Deloitte study revealed that, by 2030, there will be a proliferation of voice-led technologies around the world, with 30% of sales happening via voice. Additionally, given the ongoing economic uncertainty, there is a risk in not investing in new technological capabilities during a downturn, as stressed by MIT research.
The Growing Challenges of Customer Support and CX
There is a growing demand for new voice-led solutions to deliver better customer experiences.
Until recently, IVR solutions and chatbots have played a central role while not excelling at CX. The traditional bottlenecks limit the ability of companies to properly serve their customers. Among these challenges, the scalability of support teams and cost issues are among the most pressing.
Given the plateaued capabilities of the legacy systems, companies have begun to pin their hopes on new technologies such as Voice AI, hoping to disrupt the status quo once and for all.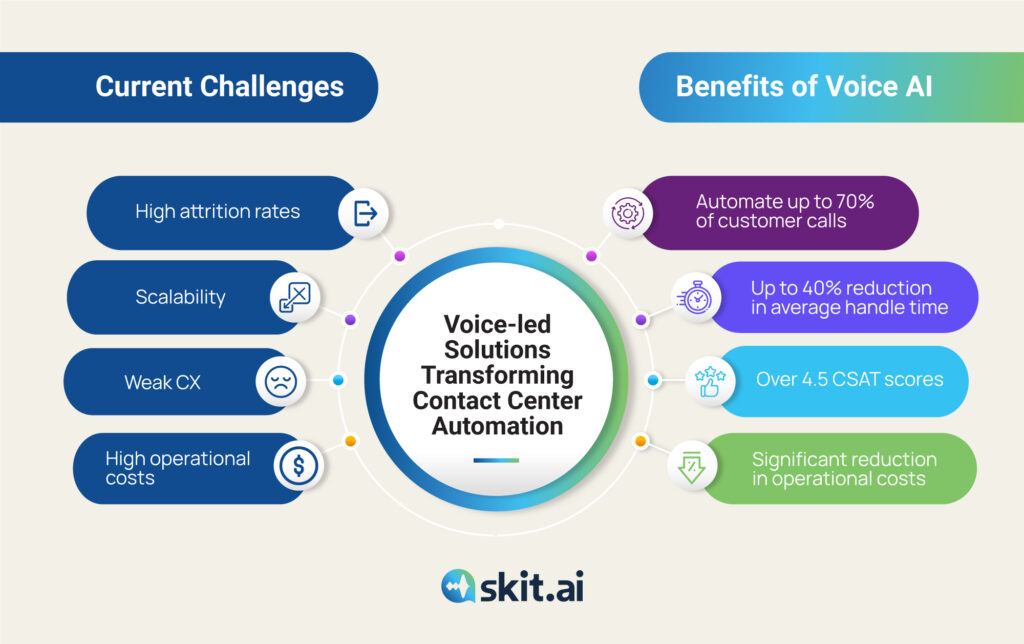 Here are some of the most common challenges contact centers are currently facing:
High attrition rates: Even the best contact centers are struggling to retain talent. Agents often quit due to frustration with their jobs or as soon as they are offered a better position elsewhere.
Scalability: Call volume fluctuates, going up and down depending on the season and demand for customer support. It's very challenging for managers to scale their teams up and down according to these changes.
Weak Customer Experience (CX): The vast majority of consumers will confirm this — IVR is highly unpopular! IVR systems typically reroute customers through nightmarish flows, ending up with long wait times to speak with a live agent who can effectively solve the given problem.
High operational costs: Agent costs, infrastructure, talent hiring, training, and retention all add up, costing companies a fortune.
It's not a surprise, therefore, that customer frustration is on the rise. Nearly 9 in 10 people say they prefer speaking to a live agent over the phone rather than navigating a pre-set menu (IVR), according to research by Clutch.
Contact Center Automation Trends: The Solutions Available Today
Here are the most prominent tech solutions available today for contact centers to automate their interactions with customers:
IVR (Interactive Voice Response) Systems: IVRs may have been game-changers when they were first introduced decades ago. Today, not so much. Most IVR systems are created to reduce call volumes or prevent callers from reaching a live agent. They do not easily differentiate between customers and their intent, leading to time-consuming flows and frustrating results. Additionally, confusing navigation menus and poor integration capabilities can lead to a big mess for the company. This is not to say that IVRs do not add value, but they do not contribute to a positive customer experience.
Chatbots: For companies looking for a cost-efficient solution, and companies whose products or services have a less linear user journey, chatbots can be an effective solution. Chatbots are particularly popular now because of the increasing demand for self-service customer support solutions. Additionally, they are easier to train than voice-based solutions, and they provide 24/7 customer support at a low cost. Chatbots can also work with audio and visual media.
However, also chatbots have their shortcomings. First of all, they miss out on two core pillars of customer experience—emotions and ease of use. It is impossible to convey emotions over text. Also, it can be challenging for many users to type repeatedly, especially if the users are not tech-savvy, older, or in atypical situations.
Voicebots: This solution, powered by Voice AI, can handle countless, human-like interactions simultaneously, enabling users to reach a time-sensitive resolution without the need to interact with a live agent. Voice AI agents, also known as Digital Voice Agents, are capable of authenticating users, looking up relevant information, and quickly resolving customer queries in just a few minutes.
Voice AI can handle many different tasks and use cases across industries—from changing a flight itinerary to booking a table at a restaurant, from filing a complaint to making an on-call payment; users can get the support they need without waiting in line while having to listen to some hideous tune.
While many people might confuse the two technologies, it's important to remember that IVR and Voice AI are different technologies.
Augmented Voice Intelligence vs. Google Assistant, Siri, and Alexa
Alexa, Siri, and Google Assistant are considered to be the gold standard for voice automation; yet, it's important to remember that these technologies are built for one-turn, simple and generic interactions. All they do is answer a question or a request by the user. That is why they are not suitable for customer support, as it requires reliance on context and the ability to handle several turns of conversation.
Digital Voice Agents, powered by Voice AI, are trained for thousands of hours on specific customer issues. They are trained to understand the vocabulary, the decision process, and the solutions to offer. Unlike voice assistants, which are designed to provide a single answer to the user's question, Digital Voice Agents can handle multiple rounds of questions and answers. These are ideal solutions for customer-centric companies.
Listen to Skit.ai's Voice AI Agent In Action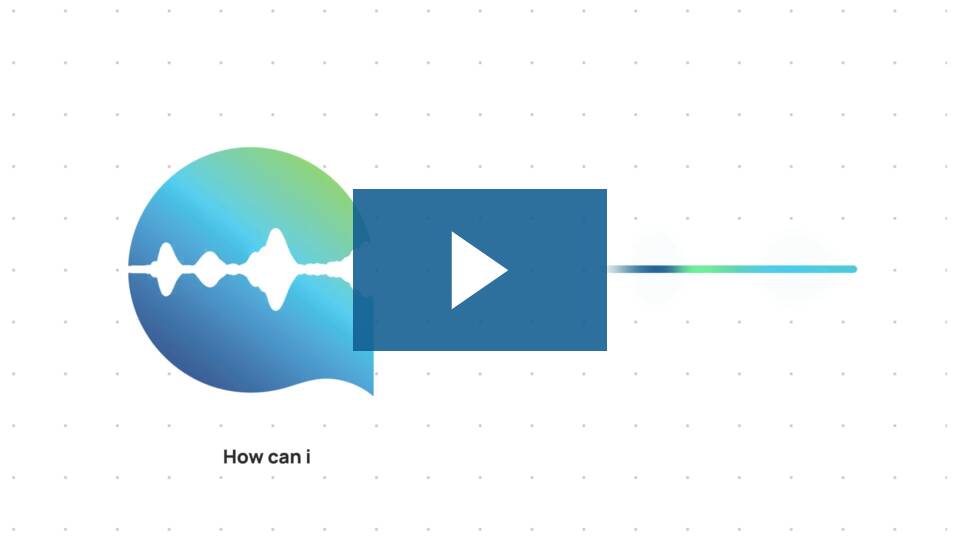 Why Voice-led Solutions Will Transform Contact Center Automation
A Stanford Study revealed that speech recognition software writes text messages more quickly than thumbs, stressing the ease of voice-led conversations over typed exchanges.
Chatbots bundled with Automated Speech Regognition (ASR) technology are able to transcribe the user's speech, but they can't handle an actual conversation. When it comes to voice interactions, only voice-led solutions can provide the ultimate customer experience.
As organizations pour millions into automated voice support, they want their virtual agents to understand the semantics of a conversation—even sarcasm. Those subtle nuances of human conversations get annihilated when we strap a readily-available ASR over a chatbot. A simple conversion of text to voice and vice-versa does not meet the standards of a voice conversation.
The attrition among call center employees is extremely high. Seamless collaboration of human and machine intelligence — as we call it at Skit.ai, Augmented Voice Intelligence — is the future of work. Voice AI is perfectly poised to augment live agents and enhance their capabilities.
Human beings prefer to do meaningful tasks that create value. By taking away a chunk of repetitive and low-value tasks, a Digital Voice Agent helps human agents focus on significant and complex tasks. Also, a Voice AI platform can provide live agents with the context of previous interactions, helping them perform remarkably better and feel engaged with their work.
Take Your First Step
How does the adoption of Voice AI impact the operations of a contact center? Here are a few examples:
Automation of up to 70% of phone interactions with customers
At least 50% reduction in operational costs
Over 4.5 CSAT
Up to 40% reduction in average handling time
Actionable insights and analytics to make data-driven, informed decisions
Now ask yourself these questions:
Are your live agents busy with zero-value, repetitive tasks?
Are you constantly facing challenges related to cost, compliance, or resources?
Do your agents feel that they could perform significantly better with the proper tech support?
Is customer experience a priority for your business?
If you've answered "yes" to any of these questions, then it's time for you to consider Voice AI for your contact center.
For more information about how Voice AI can impact your business, schedule a meeting with one of our experts using the chat tool below.