One in four Americans (28 %) have at least one debt in collections. It underscores the significance of debt collection services. As more consumers depend on credit for multiple purchases from homes to vehicles, household appliances, and sometimes everyday living expenses, debt collection services are playing an even more significant role in the availability and recovery of credit.
Though use of IVR outbound Robocaller or outbound IVR is largely demotivated for debt collection through TCPA and FDCPA, we would discuss little bit about use of IVR outbound Robocaller for debt collection in this blog.
Over the last couple of decades, it was perhaps wise to deploy Outbound IVRs, Voice Blasters, or Robocallers. The technology helped companies send pre-recorded phone messages to hundreds of consumers at once. 
---
---
In the last couple of decades, they have helped companies reduce calling errors, call costs, and improve productivity. But with rapid advancements in technology, especially Voice AI, the competitive landscape has changed rapidly in favor of intelligent voice conversations.
In this blog, we delve into the core of the issue to explain why Intelligent Voice Agents are the way to deliver superior business performance and customer experience.
Explore how Voice AI solutions are Transforming Debt Collections
Understanding IVRs and why they fail to deliver real value
Typically, an Outbound IVR (Interactive Voice Response) is used to proactively reach out to a large number of customers in a personalized manner using different interaction channels, such as voice messages. The most common use cases are feedback, promotions, announcements, reminders, etc.
Robocaller or outbound IVR has essentially two components in it; a dialer capability and a text-to-speech engine (Advanced Outbound IVRs) or a recorded voice message (Robocaller). Businesses can upload thousands of contacts in the dialer and configure certain parameters such as number and time of retry attempts, time of call etc. Dialer calls up these contacts and play a voice message which consumers can listen to. At the end of call, consumer can provide keypad based number input to listen to the message again and certain other things.
For 1990s this technology was a game-changer and led to huge improvement in efficiency, however, today it is ineffective and unnecessary, to say the least.
Even the best outbound IVRs ail from persistent challenges as enumerated below:
Unidirectional Communication: IVRs are capable of only unidirectional communication with a limited DTMF (Keypad-based) feedback mechanism.
Low Engagement: IVRs have extremely low engagement rates owing to their non-conversational unidirectional communication.
Right party contact: Inability to capture conversational inputs and run verification to check for right-party communication. Today, you cannot pass on debt related information to the wrong contact even inadvertently.
Lack of ability to capture important dispositions: Robocallers or outbound IVR can't capture meaningful dispositions that can be used downstream, such as:

Willingness to pay, and expected date and mode of payment
Refusal to pay and associated reasons
Debt dispute and reasons
Willingness to pay partially and offer payment arrangements.
Ability to capture call-back date and time for busy customers.

Lack of insights for segmentation: inability to segment the pool of consumers based on disposition to help debt collection companies make meaningful strategic decisions.
Inability to reach out to consumers on their preferred time: Since Robocaller cannot capture disposition for busy consumers, it cannot intelligently call back or arrange call back from human agents.
Payment assistance and goal completion: can not help or guide the willing consumer to make the payment during the call.
Human-Agent Dependence: for a large chunk of calls, the agent are needed to reach to a meaningful end result.
Compliance adherance: Since every call campaign is triggered manually, compliance is left with the operator who is running the campaigns.
Customer Experience: being extremely impersonal, they miserably fail at contributing to CX.
IVRs, even at their best, do not contribute to CX or major productivity gains, whereas a bad IVR experience can prove very costly. The State of IVR in 2018 noted that 83% of customers would avoid a company after a poor experience with an IVR.
The more pressing problem still remains:
"How to automate the mundane, repetitive and non-value additive tasks human agents are doing"
For a long time, we did not have an answer, or we did not have a commercially viable technology solution, but today we have, and it is Intelligent Voice AI Agent.
Explore how AI-enabled Voice AI Agents are the Perfect Solution to Meet Compliance Requirements
Understanding Digital Voice Agents
Digital Voice agents are AI-powered virtual agents that allow customers to converse intelligently, without having to punch 1,2,3,4 on their screen to hold meaningful contextual conversation. It is able to converse with your consumers just like your human agents. It is capable of understanding, interpreting, and then analyzing conversational voice input expressed by an individual and responding to them in an everyday language.
A Virtual Voice Agent goes beyond understanding words, and determines what the consumer is saying based on underlying semantics, without relying on specific keywords. Using machine learning, a Virtual Voice Agent is continuously improving itself and the customer experience. Read more about Digital Voice AI agent here.
Unlike Siri and Alexa, which are designed to handle everyday context-less tasks such as setting up an alarm or playing the songs, AI-powered digital voice agents are trained specifically to handle complex problems, and understand what a customer may want in all probable scenarios, making them highly effective in solving customer problems and requests.
A Comparative look: Digital Voice Agent Vs Outbound IVR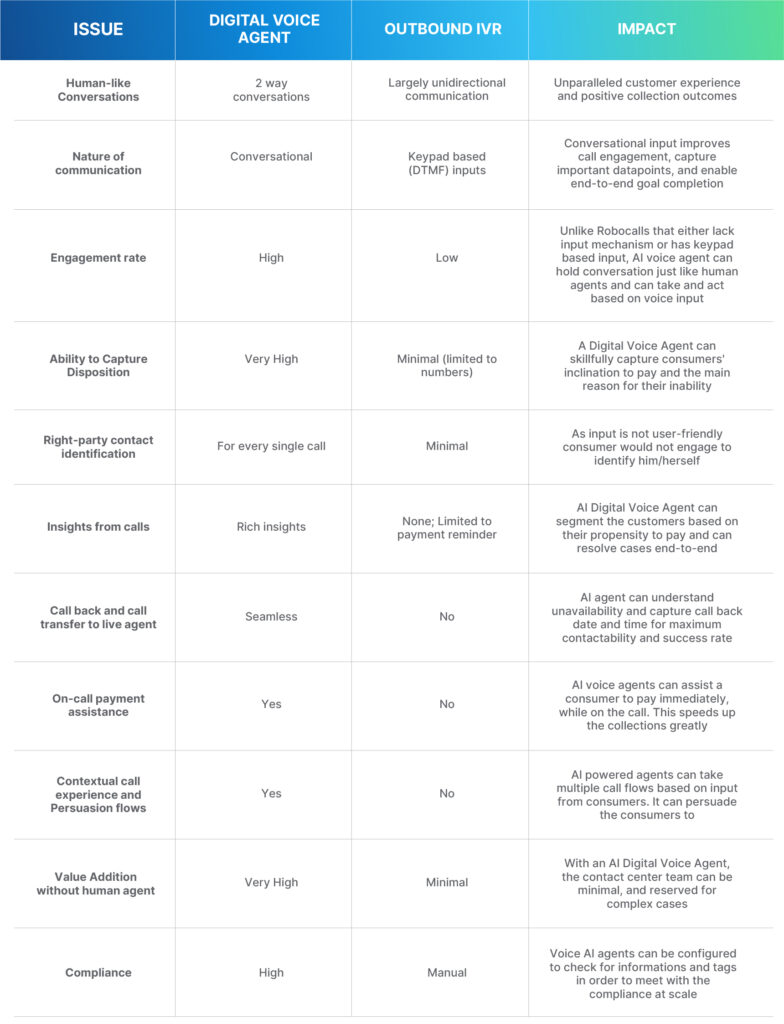 4 Core Benefits: Why Top Collection Agencies are Deploying Digital Voice Agents
For any company, AI-enabled Digital Voice Agents are a quantum leap from aging outbound IVRs. There is no comparison. Digital Voice Agents are AI-enabled, making them improve exponentially with time. One can surmise the amount of competitive leg-up companies can create as they start early. Here are the core business benefits of deploying Digital Voice Agents over IVRs:
Reducing Cost and Improving Speed of Collections: The Digital Voice Agents can make or handle hundreds of concurrent calls at scale, economically, and in just an hour. Not only that, voice agents, being a machine, are very punctual and reach out to debtors that request a callback or make reattempts right on time when the probability of connecting to contact is highest. All this is done within the prescribed compliance framework.
Superior Recovery and Collection Efforts: Better collection and recovery demand persistent efforts. When nudged at the right time, a debtor who is willing but unable to pay now might pay a few months down the line. Thus, what matters is how persistently collection agencies can reach out to a certain segment of debtors, ideally disposed to pay. It's a piece of cake for Digital Voice Agent to schedule follow-up calls, honoring the regulatory guidelines, spread over weeks/months, and ensure better recovery rates. With timely and adequate calls going out to customers, and 24*7 support, the right voice-tech solution checks all the boxes to improve collections and recovery.
Minimize Errors, ensure Compliance and Security: With a myriad of ever-changing regulations, disparate for each state, it is challenging for agents to keep abreast and be flawless. Training and development are costly, but Digital Voice Agents are easy to update and ensure perfect compliance. IVRs play a limited role, as unidirectional communications have a low impact.
Human-Agent Bandwidth Prioritization: The beauty of deploying an Augmented Voice Intelligence is that it can call all the customers and filter the cases of the complex cases that need human agent interference. In the present system, agents call the entire list, be it a simple case or a complex one, not creating desired value in the process. For the dispositions where human intervention is required, Voice Agent can segment the portfolio so that relevant human agents can be assigned the downstream tasks. This prioritization of bandwidth unlocks massive value for the collection companies.
For more information and free consultation, let's connect over a quick call; Book Now!
Also, for more information visit our Collections Page.