The age of hyper-personalization is here. For the digitized insurance sector, achieving communication-centricity along the way of personalization will be the mantra for superior customer experience (CX)!
Even though insurance policies are intangible, today's customers look for tangible evidence in the customer service or product features that make their experience smooth and easy.
Insurance claims are moments of truth. They are sensitive moments following an ailment or an unfortunate event. Cost-effective and empathetic service holds the key!
Exploring the Need for Call Automation with Voice AI and Leapfrogging CX
The high volume of calls in the insurance industry makes call automation imperative. For instance, insurance claims status follow-up typically involves sharing policy information and reference numbers over IVR, keying in their details in self-service dashboards, and calling customer support for status confirmation and validation. Shortening reach to that information most quickly is a definite way of improving CX.
From the providers' standpoint, dispensing the correct information at the right time without impacting cost, productivity, and customer satisfaction could be a grandiose ambition, especially with the rising cost of human-agent interactions. Besides, the bar for CX is raised too high by thriving CX-centric companies from other industries. Nearly 86% of buyers are willing to pay more for great CX.
Here's a snippet of industry research that we think can help insurance providers chart a realistic customer support roadmap in claims status management:
People and technology combinations are the most sought-after options for insurance interactions, according to a study by Gartner.
Digital channels are great for securing sales but lack personalized advice capabilities, according to the Capgemini World Insurance Report 2021.
To sum up, an 'Always-on', real-time and intuitive customer service is the need of the hour. Insurers need a balanced combo of human representatives and AI-powered automation for frictionless customer support.
We will discuss further in the article how Skit.ai's Voice AI aces in enhancing both human-machine combinations for personalized claims status support for ICICI Lombard, one of India's leading private sector general and motor insurance companies.
Skit.ai and ICICI Lombard Partnership Upholds the Promise of Customer-centricity
ICICI Lombard has held a strong focus on being digital-led and agile. It has successfully launched an array of tech-driven initiatives that are tailored to customers' expectations. Throughout their legacy of over two decades, ICICI Lombard is committed to customer-centricity with their brand philosophy, 'Nibhaye Vaade'. As of March 2022, the company has issued over 23.9 million policies, settled 2.3 million claims, and has 283 branches with 11,085 employees.
The insurer wanted to implement a revolutionary approach to help customers with 'claims status' updates for–better CX, contact center performance, and lower cost. The answer was Skit.ai's Augmented Voice Intelligence platform, which helped the insurer usher in call automation in their contact centers and empowered human agents to drive better CX.
Skit.ai's purpose-built AI-enabled Digital Voice Agents can handle tier 1 customer service calls, which are around 70% of total call volumes, and make intelligent handovers to human agents for more complex calls. It takes time and post-implementation pursuits to reach such high levels of automation, training the voicebot for all use cases and situations.
We will discuss the positive business outcomes that Skit.ai's Augmented Voice Intelligence platform helped ICICI Lombard achieve by automating and modernizing its legacy, checklist-driven claim status processes. Additionally, we will also be detailing the existing challenges in claims status management that prevents insurers from demonstrating speed, value, and efficiency.
Dive deeper: What are Digital Voice Agents?
How Skit.ai's Digital Voice Agents are Accelerating ICICI Lombard Claims Status Support with Call Automation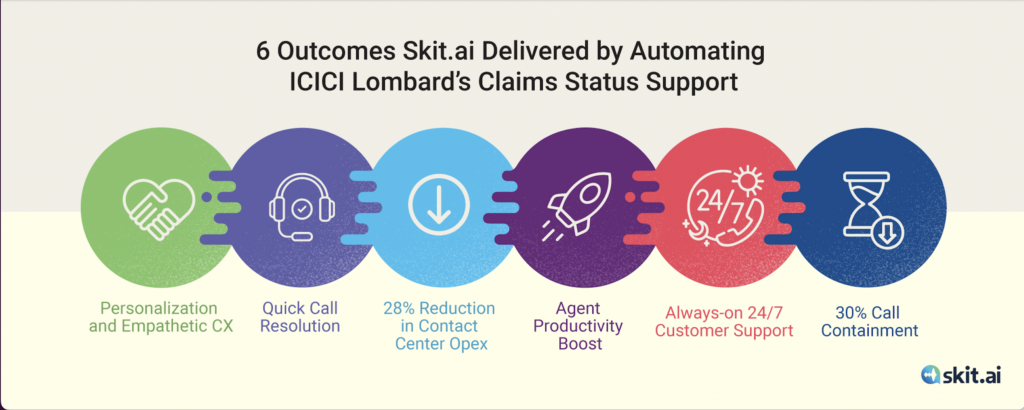 Digital Voice Agents plug into contact centers and augment human agents by automating cognitively routine work. With the deployment of Skit.ai's solution, ICICI Lombard could augment its performance in the below-mentioned areas. Other insurance companies can also transform on similar lines:
Personalization and Empathetic CX: Digital Voice Agent answered customer calls and automatically checked their history based on their registered mobile number. This knowledge helped ICICI Lombard personalize interactions with the customers. Upon request, the voice agents confirmed claim details and updated them on the claim status in less than a minute. ICICI Lombard could also leverage voice automation and personalized caller's journey without making them wade through the IVR menus or wait to speak to an agent. No wonder they experienced a rise in CX.
Shorter Conversations: Obviating IVRs, the voice agent helped the insurer shorten the conversations by capturing all the details and transferring them to a human agent who picked up from where the voicebot concluded. This helped in improving the quality and average handling time for human agents.
Lower Contact Center Opex: Digital Voice Agents can contain a significant volume of claim status calls without needing intervention by the insurer's customer support teams. This efficiently manages their contact center operations to handle a large number of customer queries (containing up to 30% of claims status calls), and also curbs additional expenses on training and hiring human agents to handle zero-value, repetitive tasks.
Agent Productivity: The automation capabilities of Digital Voice Agents can help contact centers to use their human resources more judiciously by allowing them to only handle complex claims-related cases and escalations.
Always On Support: Running contact centers 24/7 is not feasible from a cost and agent availability standpoint. An insurance policyholder can approach customer support for claim status information at any time of the day. Digital Voice Agents are capable of carrying out human-like conversations and can understand intent, sentiment, and voice tone to cater to their needs even post the working hours.
Discover the Biggest Contact Center Automation Trends of 2022
Business Outcomes of Call Automation at ICICI Lombard
With the help of Skit.ai's Augmented Voice AI platform, ICICI Lombard achieved impressive outcomes:
Contact center operational cost reduction by 28%
End-to-end automation for 30% of calls; no need for a human agent
Time to Value of fewer than 100 days
These results represent just the beginning of possibilities for ICICI Lombard with voice automation. Additional improvements will emerge as more use cases are added. Also, the learning curve advantages that come with time, will give the insurer a decisive competitive edge.
In the Words of ICICI Lombard Leadership
Reflecting on their successful journey with Voice AI, the leadership team at ICICI Lombard also expressed their thoughts:
"At ICICI Lombard, we believe that insurance is a promise that a customer pays for upfront, and the claim is the moment of truth. With our digital transformation strategy, we have set out to deliver on this promise with an intelligent digital voice agent that cuts down on customer wait time and holds empathetic conversations. It is an unconventional, modern solution that simplifies a legacy process that is quite complex," said Girish Nayak, Chief of Service, Operations and Technology, ICICI Lombard.
"This is a watershed moment for the industry—for an insurance company to employ Voice AI to transact with customers and provide them with their claim status. One of the big CX wins is that customers don't have to suffer DTMF anymore—no more," ICICI Lombard mentioned in the case study.
Commenting on this revolutionary move, Vasundhara Bhonsle, Head of Customer Support at ICICI Lombard, said, "At ICICI Lombard, our digital transformation strategy focuses on deploying innovations that provide the best service and experience to our customers. Through our partnership with Skit.ai, we are creating a milestone for the Indian insurance industry. By implementing a digital voice agent to manage inbound queries for claim status, we are modernizing a legacy, complex process to make customer interaction a lot more personalized and empathetic. We look forward to bringing the benefits of the digital voice agent to millions of customers in India."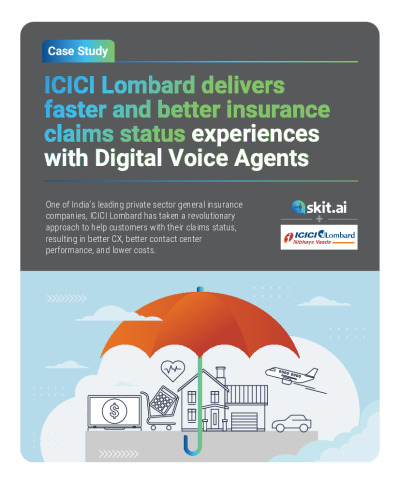 Reimagining Insurance Customer Support with Voice AI
ICICI Lombard began the deployment of Skit.ai's Digital Voice Agents with one of the most challenging use cases i.e. Claim Status Support. Generally, dispensing claims status information on the go requires a good deal of time and resources. Sometimes, insurers are also dependent on other external stakeholders like hospitals and care providers using time-consuming, manual procedures for patient data and claims status-related updates. To ensure these hurdles do not affect customer support, insurance companies need to remain a step ahead leveraging Digital Voice Agents in the claims status area.
Below are 6 reasons why insurance companies should up their game with intelligent Voice AI-led workflows in customer support to lead customers in their insurance and claims-related decision-making:
Much Newer and Tech-savvier Competition: With the arrival of smarter and innovative entrants in the market, it gets tough for insurers practicing legacy approaches in the claims process to remain relevant and win over customers. CX is crucial for survival and customer loyalty. So, it makes sense to integrate novel CX enhancing technologies and contact center automation to make claims status processing quick.
Delays Cause Frustrations: Delays and long wait times for updates on the status of the claim frustrate customers. The claims process typically has limited human touch points. The absence of timely updates can gravely lower CX and customer satisfaction.
Mounting Opex of Contact Centers: The time and cost factor for outbound efforts, confirmatory calls, and resources used as per policy with the available support team makes it difficult to reach all policyholders on time. This is yet another driving factor to consider innovation in claims status and leverage Digital Voice Agents for 24/7 service.
Automation Must Follow Digitization: If approached in layman's terms, there is too much information like claims reference number, policy number, name, address, and more that a policyholder must manually read out to a contact center agent along with call authentication conversations. This is not only time-consuming but also would be best if the information can be input and confirmed on self-service dashboards rather than over phone calls.
No Room for Errors. Follow-up, changes, and corrections with the human agents when a slew of information (mostly when they are numbers and characters) is exchanged and input manually, has high scope for errors. Inaccuracies and mistakes can be costly for the insurer's brand reputation and bring down customers' confidence. Automation with Voice AI allows for perfection by taking over repetitive, mundane processes.
Self-service and DIY Option Comes with Privacy Factor: Offering intuitive self-service options and Digital Voice Agents that hold human-like conversations with customers can guide them through the claims process and can allow them a degree of autonomy. Since customers are independently accessing the claims process and status, it creates a strong sense of privacy which is integral for customer satisfaction and CX.
How Voice AI Helps Insurance Companies Streamline Inbound Support
Looking Ahead:
The future of customer support is voice. Rising costs and human agent attrition make delivering quality support prohibitive. But with evidence abound, Voice AI is fast emerging as a technology to leverage, and leapfrog CX. Voice AI was an option, but it is fast becoming an imperative, watch out!
The journey of transformation has just begun. As we constantly evolve and experiment with our technology across use cases in the insurance domain, there's clear certainty for better numbers and more success stories in our pipeline.
Are you interested in exploring automation possibilities with Digital Voice Agent to elevate your customer experience with better customer support? Use the chat tool below to book a demo with one of our experts!